Mom, Chloe and I took a trip to Ohio last weekend to visit family and see my cousin Tonya's daughter, Kyleigh, compete at a gymnastics meet. We headed down after Chloe's soccer game on Saturday and arrived in the late afternoon. Kirsten (Tonya's oldest daughter) was at Aunt Pat's house, so she and Chloe hung out and played on their iPods and rode around the yard in Uncle Tom's little Ranger. Mom, Aunt Pat and I chatted for a while, then we went out to dinner and over to the cemetery to visit Grandpa and Grandma and Uncle Ron's graves and take a look at this giant tree there that was struck by lightning or something, cracked in half and collapsed on a bunch of the gravestones. The girls were walking around (and Chloe was doing cartwheels on) Grandpa and Grandma's grave, so I had them pose for me. I don't think Chloe gets that you should show a little respect in a cemetery since she hasn't really been in many in her life, but I told her she could show off her cartwheels to Grandma and Grandpa if she wanted and they were probably looking down from heaven smiling at her. Such a silly girl with so much to learn, but so full of energy and life and spirit.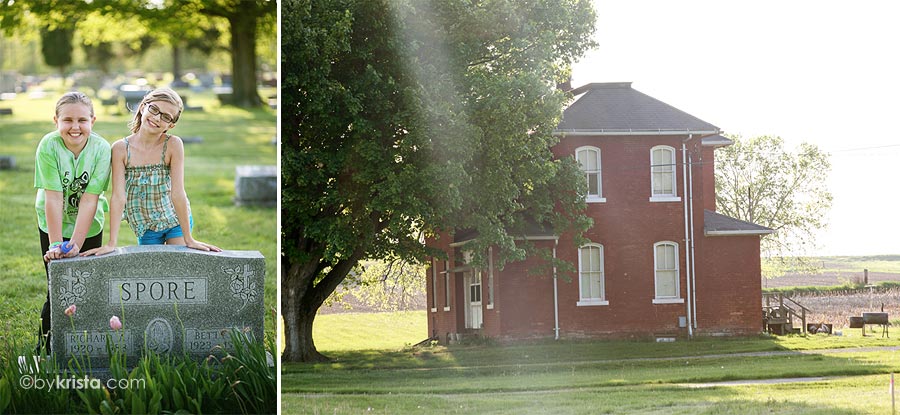 Afterwards, we drove a few miles down the road past the house where my Grandma grew up. I took a few pictures and have been staring at them, imagining my grandmother as a little girl running around in the yard, playing in the creek, enjoying her childhood. Aunt Pat said Grandma nearly drowned in that creek when she was little. Praise God she didn't. None of us would be here if she had.
Across from Grandma's old homestead is a farm where a couple of eagles have built a huge nest. We drove by once and I didn't have my zoom lens with me, so we went back to the house and got it and drove over again. That was a very cool sight. They weren't there at first, but we suddenly saw one flying overhead and it landed on a branch high up (photo on the right). We watched that one for a few minutes and then the other eagle flew around, swooped down and came up and landed in its nest (left photo). Then the eagle perched on the branch, swooped down behind some trees down by the creek, so we backed up until I saw it down on a branch by the water (middle photo). It perched there for a bit, suddenly snapped a branch off with its beak and flew away with it.



We stayed the night at my grandparents farm (dad's parents) and visited with Grandpa for a while. He takes such good care of Grandma. It's hard to see her in such a weakened condition, especially after spending so much time last week going through old photos of her, so happy and alive with that huge smile on her face.
In the morning, we got up bright and early and headed over to Aunt Pat and Uncle Tom's to drive down to Dayton for Kyleigh's meet. On the way, we saw the biggest and most beautiful moon hanging low in the sky. I wish I had just stopped along the road and pulled out my camera because by the time we got to their house, the moon had disappeared behind a bunch of trees and it wasn't as bright as it had been. It was awesome, though. The night before had been the "Super Moon" everybody had been talking about, so maybe that's why it was so big and bright in the morning.
Our day was spent at the gymnastics meet, which was so fun to see. Kyleigh is a little powerhouse, for sure. She did awesome in all the events, scoring high in everything. Tonya didn't tell her we were coming, so at one point when she looked up, she saw Chloe and got a huge smile on her face.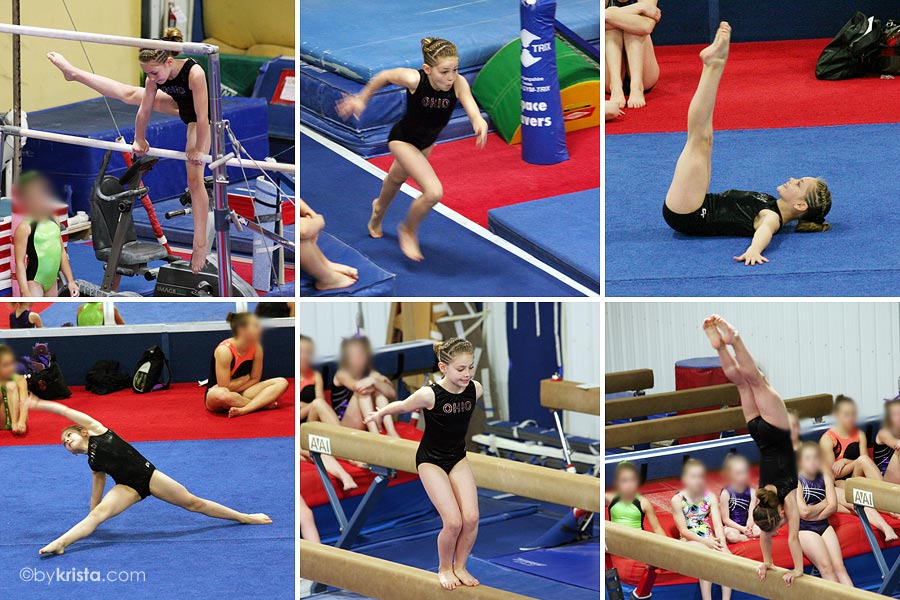 Kyleigh got 1st place in every event and 1st place overall. We were so proud of her! She loves gymnastics and has a huge talent for it.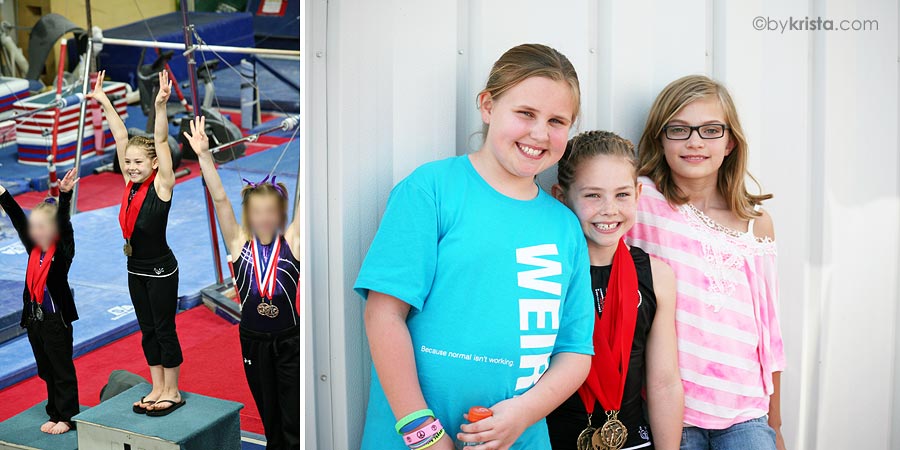 After the meet, we all went to Fricker's for lunch. They had "Frickin' chicken" as one of the menu items and Kyleigh suddenly said, "When I'm done eating, can I get the frickin' cheesecake for dessert?" We all laughed at that.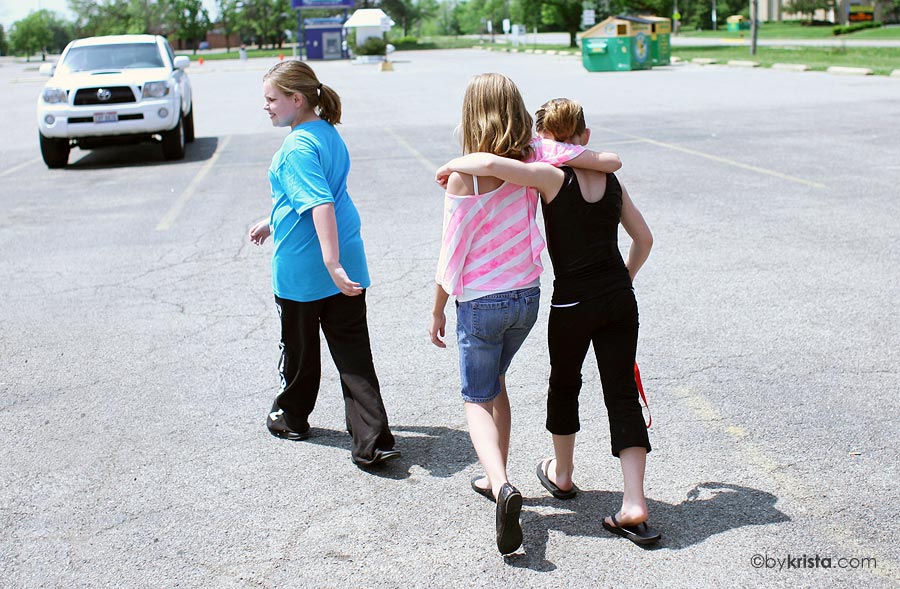 It was a nice afternoon with family, but after lunch it was time to say goodbye. Until next time.