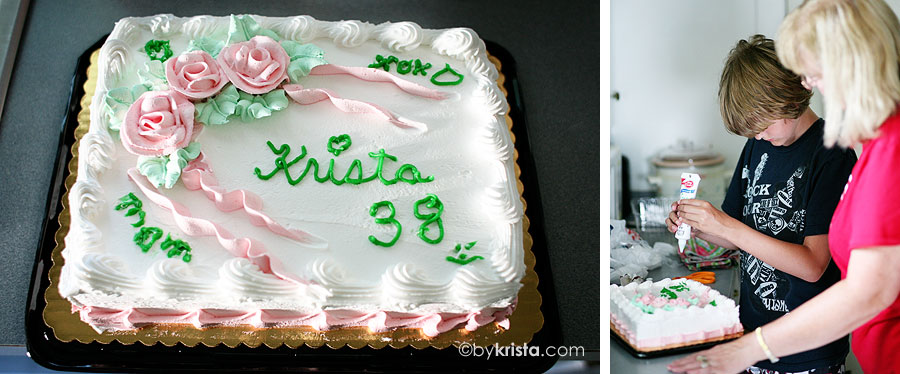 my birthday cake. mom put my name and age on it. the kids decorated the corners w/the heart, xoxo, smiley face and mom. love it.
the past 2 weeks:
– Lots of swimming in our Big Blue pool
– A little stressed out by the kids
– Jake suggested we get a couple days to ourselves. MomO agreed to take the kids for a couple overnights and he took two days off work.
– My 38th birthday. Had a pizza party here w/my parents and brothers.
– Dropped the kids off after the party and went to a movie. Super 8. Fun summer movie.
– Spent a day in Canton. Lunch at Panera. Shopping at IKEA. Got the bookshelf I've been wanting for years. Happy Birthday to me!
– Spent a day in GR. Browsed Barnes & Noble. We each picked out a book and we got a book for each of the kids, too. I got a book about Jane Austen that has a collection of the letters she wrote during her life. Fascinating.
– Lunch at Olive Garden.
– Made BBQ pulled pork in the crockpot for the first time. Turned out GREAT. So delicious.
– Watched the movie "Aquamarine" with Chloe about fifteen times. She pretends to be a mermaid in the pool now.

– So impressed that the kids are using their evening quiet time (the hour before bedtime) to read their new books. Even Zach, who doesn't normally choose reading first if he has other more entertaining options (games, legos, etc.).
– Used my straightening iron on Chloe's hair. She looked so pretty with her hair all smoothed out. It's normally a crazy wavy flyaway mess.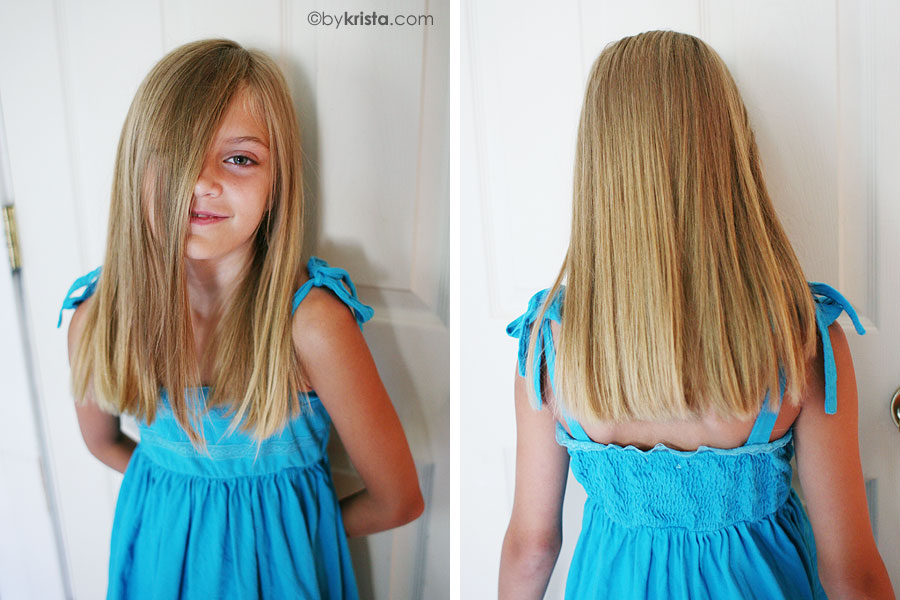 – Went to Dad O's work retirement dinner at Seasonal Grille here in town. First time eating there. Very nice place with yummy food.
– Jake ran out of gas on his way to work on Wednesday. oops!
– Talked to my dear friend Jen and made the final plans for our annual camping trip next weekend. Can't wait!
– Some big storms this week with tons of rain. Our Big Blue pool is so full right now, must drain some water today so we can swim this weekend.
– Chloe slept in our bed on Wed. night (because of the storms).
– Chloe slept in her own bed last night. She said she prayed that God would "keep it down" 'cause she was trying to sleep. So proud she made it through the whole night.
– Jake accidentally left his phone at home yesterday. oops again! Gave us an excuse to deliver it and have lunch with him.
– Did some more research on my Grandpa's time in WWII – 334th Infantry 84th Division G Company. From October 10, 1944 to Dec 31, 1944, he was involved in quite a bit of combat. I was lucky enough to find a breakdown of what the 334th did during that time. Lots more reading and investigating to do. I've only scratched the surface. Very thankful for the pictures, letters and info we have so far.
– Had a challenging day with the kids yesterday. Just one of those days, I guess.
– Enjoyed a large mocha frappe after a long frustrating day with the kids.
Can't believe July is nearly over. Only 5 more weeks until school starts. Trying not to think about it. Need to pack some good fun into August!