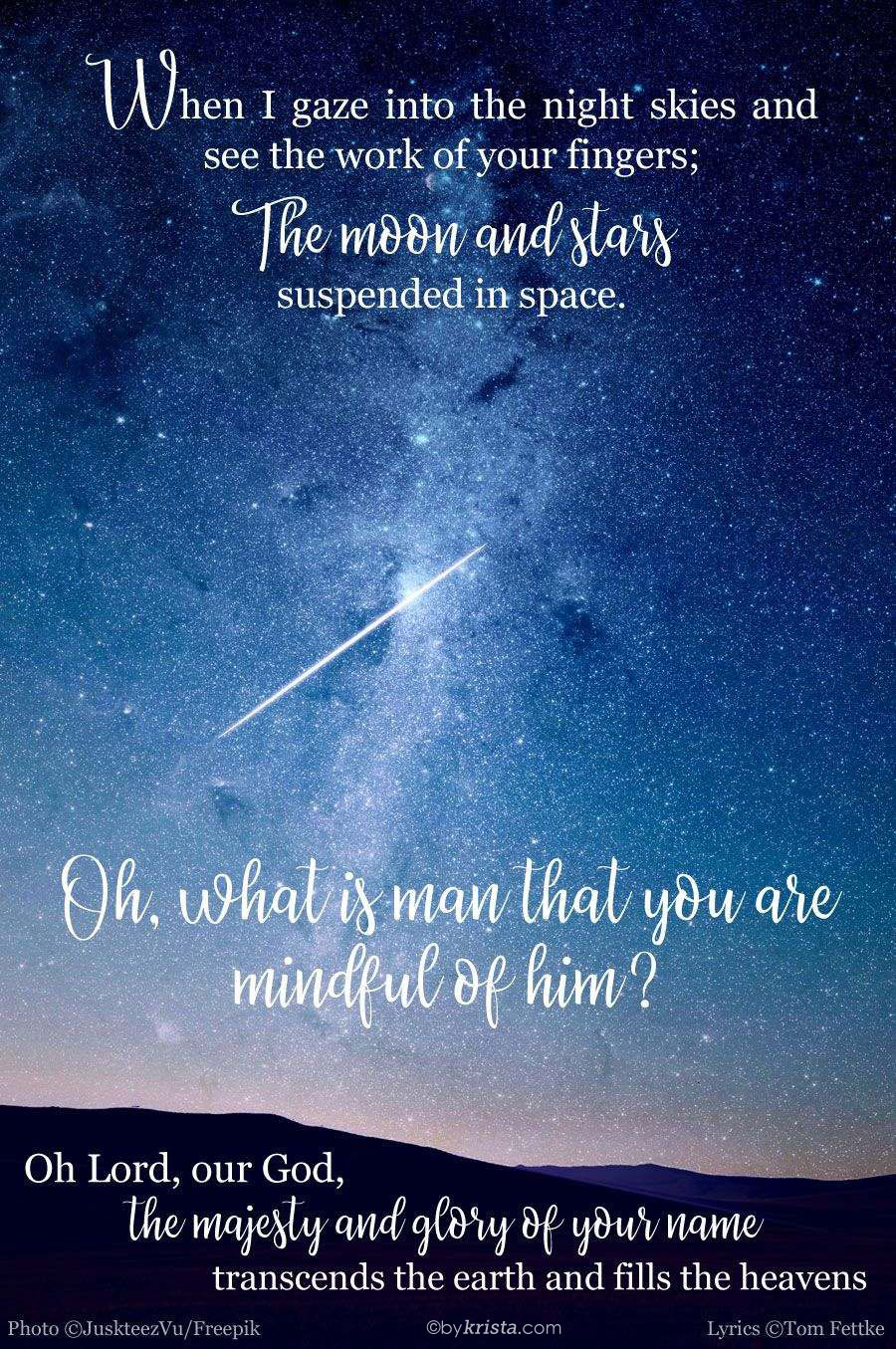 I've always loved stargazing. When I was young, I wanted to be an astronaut. I wanted to travel to space and see the earth like I imagined God does, all big and powerful and far away in Heaven, looking down on our tiny little planet. Also, I think I watched the movie Space Camp one too many times.
But as cool as it would be, I don't need to travel to space to understand how big God is. All I have to do is look up at the night sky and see just a fraction of the millions of stars he created and know. The majesty and glory of His name fills the heavens. It's overwhelming to think about the size of the universe and a little hard to wrap my mind around. And to think that God loves us so much. Us. Tiny little humans in a gigantic universe. But He made us in His image and set us above all the other creatures that live on this earth. And He's here with us, caring about each of our lives, not just watching from afar. Pretty amazing.
My Bible reading this morning was in Psalms and when I got to Psalms 8, I paused at these familiar verses. "When I look at your heavens, the work of your fingers, the moon and the stars, which you have set in place, what is man that you are mindful of him, and the son of man that you care for him? Yet you have made him a little lower than the angels and crowned him with glory and honor." As I read these words, my mind immediately returned to my college choir, Chancel Singers, to my very favorite song we ever sang called "The Majesty and Glory of Your Name" by Tom Fettke. I still get goosebumps when I hear it sung by choirs.
So I hopped over to Youtube and found this video posted by someone named Alistia who shared a choir singing it beautifully over a slideshow of images. If you want to be blessed, click play, turn up the volume, close your eyes, and soak it in. It's my favorite, and I wanted to share it with you all this morning.
Blessings on this wonderful Wednesday.