Second Chances. If we're honest, they're not only something we want. They're something we need . . . most every day. A fresh start. A do-over. A chance to learn from our mistakes and seize the opportunities we missed in the past.
There's something intrinsically beautiful and redemptive about seeing that theme come to life on the pages of a compelling romance, isn't there? With the start of a brand new year, we can't think of a better time to celebrate that theme than a sale and giveaway of some of our favorite second chance romances.
Sales, Gift Cards, and Giveaways!
Each day, Jan 16-20th, one author will be highlighting a clean romance we've put on sale for you this week. Be sure to visit each author's website and Facebook page to catch every deal, see what each author's giving away, and enter the grand giveaway of five signed paperbacks!
Day 1: Melanie Snitker – Join her at https://facebook.com/melaniedsnitker
Day 2: Stacy Claflin – Join her at https://facebook.com/stacy.claflin.author
Day 3: Crystal Walton – Join her at https://facebook.com/crystalwaltonwrites
Day 4: Krista Noorman – Join her at https://facebook.com/bykristanoorman
Day 5: Sarah Monzon – Join her at https://facebook.com/sarahmonzonwrites
Don't miss out on the giveaways each author will be offering. And enter the grand giveaway at the bottom of this post for your chance to take home five signed paperbacks!

Today's Feature • Until Then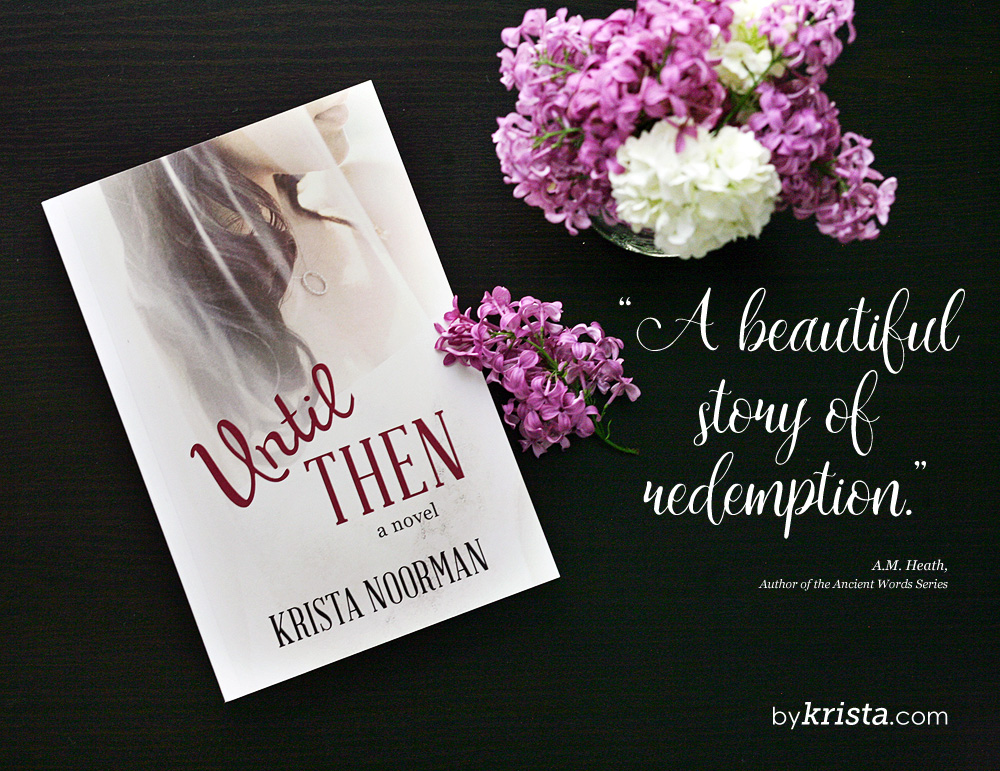 While thinking about which of my books would be best for the second chances theme, my mind immediately went to Until Then. On Michelle's first day of college, she meets handsome, tall, blue-eyed, basketball star Sean. What happens between them changes Michelle's heart in a profound way and alters the course of Sean's future, sending him on a bit of a downward spiral and out of Michelle's life.
Sometimes a lot of time must pass before that second chance comes along, and it can be downright painful with all the past hurts, uncertainty, unanswered questions. All the whys and what ifs. But God's plans are better than ours, and in this book, they're better than anything Michelle could possibly dream up for herself.
Here's a little excerpt for you from the moment Michelle finally sees Sean again.

Michelle arrived at the game and took a seat low on the bleachers to watch. Cornerstone scored several baskets in a row, and the crowd roared.
Her eyes wandered the room. There were familiar faculty members there, a whole section of rowdy cheering students, and cheerleaders on the sidelines. People filtered in and out of the entrance. She looked closer at a small group of people just outside the doors. There were two dark-haired men standing with a teenaged boy and girl. One of the men looked very familiar to her. He stepped through the door into the room, holding the teenaged girl's hand.
Michelle squinted. No! It couldn't be!
They walked toward her. The man was speaking to the girl as they passed by. He looked a little older, and his hair was shorter, but she would recognize those eyes anywhere. Sean!
She watched them walk toward the far end of the gym, closer to the rowdy students, where they found a seat near the top. She couldn't believe he was actually there. Her heart raced, and her palms began to sweat. Her nerves kept her from jumping up and running to their end of the gym. It had been more than fourteen years, after all. Maybe he wouldn't recognize her.
She glanced in their direction again. He seemed to be looking her way, but she couldn't tell at that distance. He could have been watching the action in the game. She turned back to watch a foul shot and played with a loose thread on her sweater.
Oh, Lord, what should I do? He's here. He's actually here. Should I go talk to him? Or should I just let the past stay in the past?
"Michelle?"
Her prayer was interrupted, and she looked up into those blue eyes she remembered so well. "Sean."
"Oh my gosh, I thought that was you." He shook his head back and forth and blinked a few times, like he couldn't believe what he was seeing.
She stood and awkwardly held her hand out to shake his.
He let out a little nervous laugh and hugged her instead.
Oh, man, he smells good.
The noise of the crowd around them grew louder. He turned his head and spoke into her ear. "It's so good to see you."
She smiled.
He pulled back, keeping a grip on her forearms. "You look great."
"So do you," she managed.
He motioned toward the bleacher behind her, and she gave him a shy smile as they sat down together.
He kept shaking his head, another nervous laugh escaping his lips. "I'm sorry, I just … I can't believe it's you. You're here. I thought about you when we got here today. I wondered if you still lived around here or if you ever went back to Chicago."
"I'm still here."
"I think I was secretly hoping I might run into you, but I thought that was pretty much impossible. I'm … I don't know. I have no words." The smile never left his face.
"I actually saw you come in, and I thought my eyes were playing tricks on me or something."
They sat in silence for a few moments, his attention turned to the game. He made a few comments on the game play, but she wasn't listening. She was distracted by his presence, by how good he still looked, and by the glint of gold on his left ring finger. She knew he was married. Simon had told her so years ago.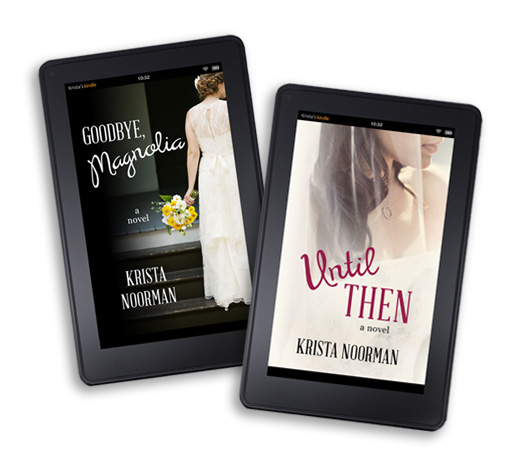 You can read Michelle's story, Until Then, for just 99¢ from January 16-20.
Kindle eBook
Nook
Apple iBooks
Kobo
This book is part of my Cornerstone series and, while you can read this book without having read the first two, I highly recommend reading them in order because this book gives away the ending of the first book. You can start reading the series for FREE right now with Book 1 – Goodbye, Magnolia. (Find it on your favorite eBook site HERE.)



GIVEAWAYS
Amazon Gift Card
I'm giving away a $5 Amazon gift card during this event. Enter below by answering the question. Extra entries can be earned by liking my Facebook page, following me on Bookbub, and tweeting about the giveaway.
Love clean romances? I do. I've read and loved all of these books. For a chance to win these five paperbacks from authors: Stacy Claflin, Sarah Monzon, Melanie Snitker, Crystal Walton, and myself, ENTER BELOW by joining our mailing lists and be the first to hear about the latest inside scoops, giveaways, and behind the scenes looks at the sweet romances you love.

Thank you so much for stopping by my blog today! And be sure to visit SARAH MONZON's BLOG tomorrow for the final day of the event.
Blessings and happy reading!