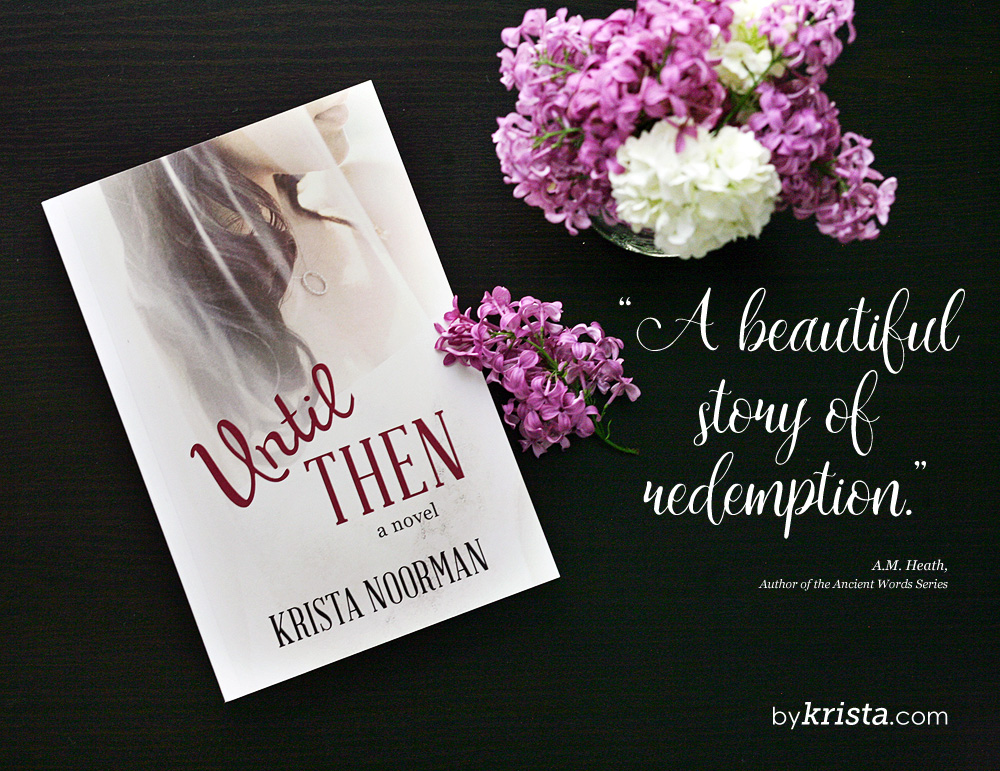 It's HERE!
Today is the official release day for Until Then. I am so ecstatic right now (and a little nervous) at the thought of everyone finally getting to read this book I've been working on for so long. I hope you will enjoy Michelle's story from a struggling young girl to a woman finding God's purpose for her life.

Until Then is available on Amazon in:
PAPERBACK or Kindle EBOOK format.
••••••••••••••••••••••••••••••••••••••••••••••••••••••••••••
READ BOTH CORNERSTONE BOOKS FOR THE PRICE OF ONE!
Goodbye, Magnolia is FREE and Until Then is just $2.99. Prices good for May 24-25th ONLY!
REVIEWS
A few early reviews of the book:
"I've been a Krista Noorman fan for a while now and if there's one thing I can count on Noorman for, it's creating characters you can relate to. She did it again with Until Then. One of the areas that shined the most to me was the genuine remorse over sin that Krista was able to bring to life on the pages. Our heroine, Michelle, hasn't lived the life of a saint and we see the destroying power of sin very clearly in this novel. I was greatly impressed with the deep regret Michelle showed throughout the novel at various moments … It's a beautiful story of redemption and a great lesson on sexual purity."
••• A.M. Heath, Author of the Ancient Words Series
"Wow, wow, wow and wow! … So much goodness in this book … I read Goodbye, Magnolia and had my mind made up about Michelle. Then this book comes along and completely changes my view of her! I loved going back to college and seeing how Michelle, Maggie, and Simon all came together. This book is about hurt, loneliness, sin, betrayal, and God's unconditional love He has for each and every one of us."
••• Karen W, Ting's Mom Books
"This is a story that isn't afraid to tackle the hard issues head on rather than gloss over them. It makes for a great ending that leaves you satisfied rather than feeling like this would never happen in real life. … Krista Noorman deals with the realities of life in a way that has you simultaneously shaking your head at humanity and at the same time identifying in various ways with the characters. I really appreciated that she made me think about things more deeply and yet kept me thoroughly engaged in the story. I couldn't put it down!"
••• Krista H, Book Reviewer at Welcome to Married Life
"Once I finished Until Then, I wanted to go back and re-read Goodbye, Magnolia! It magnified things from the first book. … I really enjoyed the story and the concepts of redemption and forgiveness that it illustrated."
••• Shecki B, Book Reviewer at Greatly Blessed
And don't forget, if you enjoy the book, stop back by Amazon and leave a brief review of your own so future readers will be encouraged to pick up the book as well. Thank you!
A GIVEAWAY
In celebration of the book release, I'm giving away a $15 Amazon gift card. The giveaway is running thru May 27th. Enter today. No purchase necessary.