I've been working on story edits of Until Then for the past month. It's serious business cutting lines, paragraphs, even whole chapters sometimes. Many chapters have been rewritten. A new chapter was even added that ended up bringing one particular part of Michelle's story full circle, which was very unexpected, but happily so. I sat in tears staring at my computer screen after that one.
I'm finally to the point where I'm working on line edits now, which is where I go over each paragraph line by line to make sure that it flows well, that I've described mood and setting properly, that dialogue sounds realistic and not forced, that I haven't used the same words and phrases over and over again, etc. I'm into the nitty gritty now. This is where it all starts to come together. I've set a deadline to finish all edits by the end of March.
I'll also be sharing promotional images in the coming weeks and months. This is the first.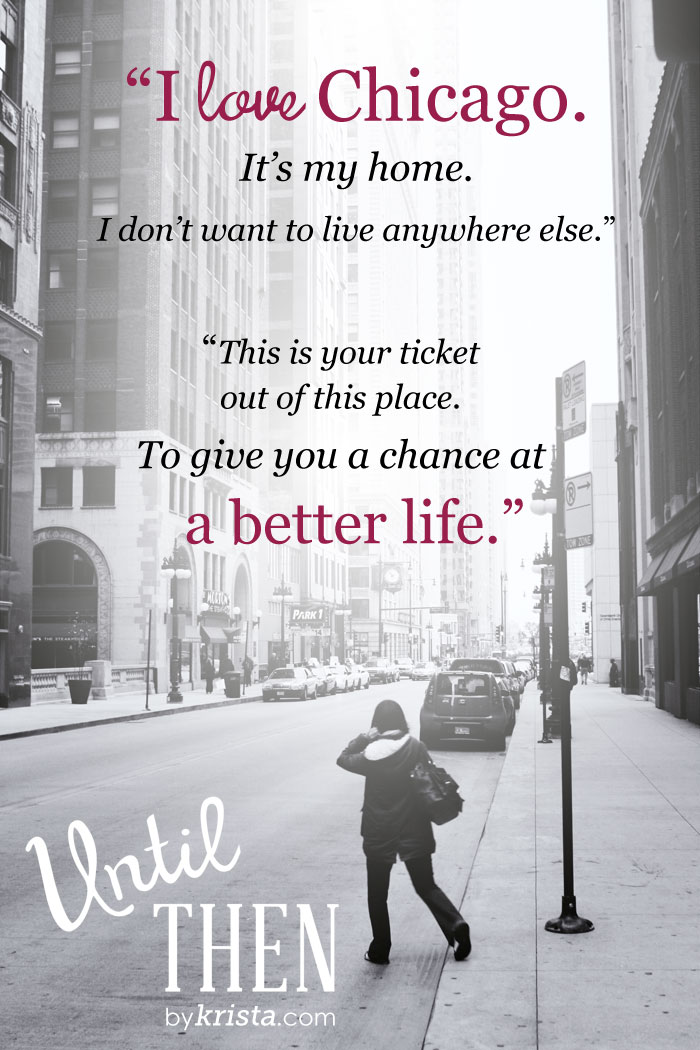 Getting Michelle out of Chicago is top priority for her family because of the rough neighborhood she lives in and the sketchy guys she hangs out with. Her grandparents offer to pay her college tuition is HUGE and the answer to all of their problems. But they have one condition – choose one of three Christian colleges they have handpicked for her. This does not go over well with Michelle. Not at all.
If you'd like to be among the first to learn when the book will be released, sign up for my newsletter below.
I promise I won't bombard your inbox with emails. I send out my newsletter every month or two and your email address will only be used for that purpose.