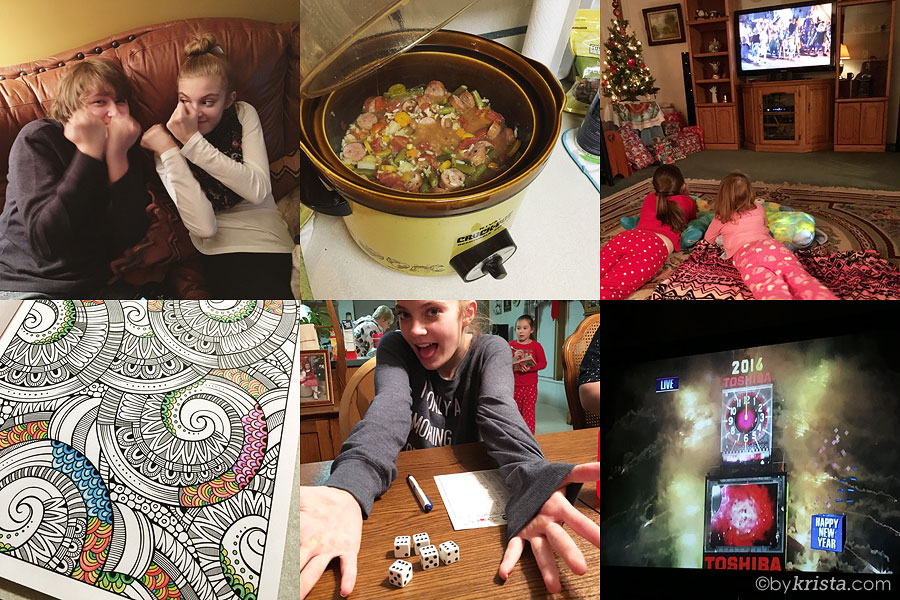 I think I'm still in denial that 2015 is over. It hasn't sunk in yet. Christmas and all the family gatherings flew by in a blur. We attended 6 family Christmases, not including our own on Christmas morning, and did more traveling this time around, but it was worth it to see lots of family this year. We spent our last weekend of break at Jake's parents' on the east side of the state. We were there for New Year's Eve (lots of games, movies, and yummy soup), then had our final family Christmas on New Year's Day.
These are just a few photos from New Year's Eve. I tend to share a lot more photos on my Instagram account. If you're an instagram addict, like I am, feel free to follow me. My username there is kristajean.
My Merry Christmas book giveaway wrapped up this past weekend, too. The winner was LETTY MAR! Congratulations, Letty!
Are you setting resolutions for yourself this year? I'm not. Not really. But there are a couple things I want to accomplish this year.
• I have challenged myself over on Goodreads to read 50 books. I read just about that many in 2015, so I'm sure I'll have no problem reaching that goal. And I want to finish reading through the Bible this year, too. I'm about 25% of the way through (started last year, but didn't finish).
• And it's time to kick my book editing into high gear so I can finish Until Then and get it ready for all of you. Then it's on to the next book.
Hope you had a wonderful Christmas and New Year's. Looking forward to all that 2016 holds.