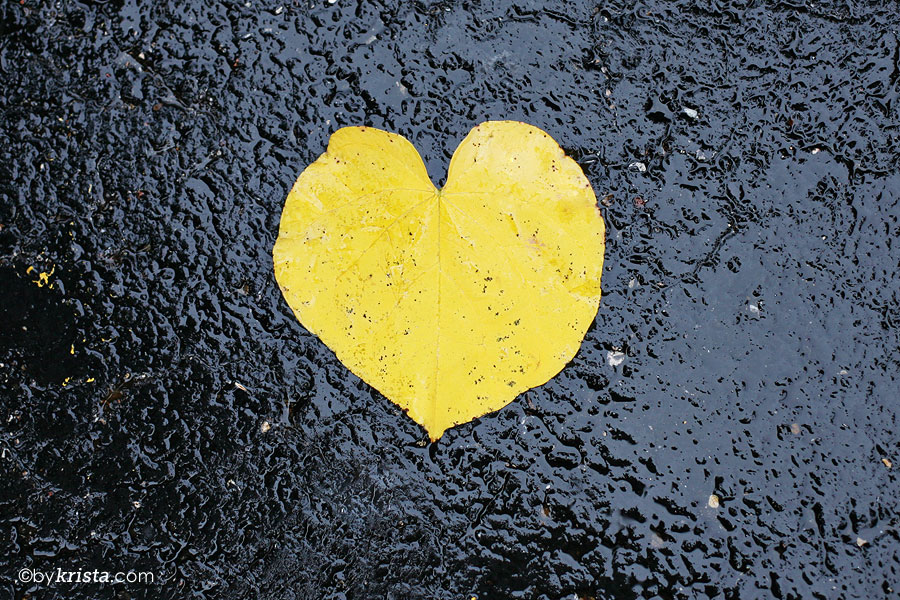 This lovely heart-shaped leaf flew over to us and landed right by our feet on Halloween night when we were eating hot dogs at the trunk-or-treat that always sets up at the end of the street each year.
We've developed a nice routine since school started. It took a little while to get adjusted to it, but now we are on a roll. And I feel completely exhausted. I've got more time to work during the day with this new schedule, so I've thrown myself into editing my book and this new project, and I feel like I'm just working, working, working. Not slowing down much. I have a killer knot in my neck that could use a really good massage. All my stress ends up in my shoulders.
But this is how it goes. I put a lot of work into my projects and then, once they are finished, they can go out into the world and just be. And I can just be for a while, too.
I am longing for that right now. A real break without thinking about the work that still needs to be done. I thought photography stuck me in front of the computer for too long and then I started writing. ha!
Here's what's been happening around here with the rest of my little family:
• Jake is working extra hard at his job after the two people who worked with him left for other jobs. Such a bummer. But he will soon get a new person to help, so that will be a big relief for him.
• He is also a creative person like me and has started making mini terrains for games like D&D out of styrofoam, toothpicks, popsicle sticks, whatever he can find. It's pretty impressive the stuff he comes up with. He just started a You Tube channel, Mini Terrain Domain, to share "how to" videos and other fun stuff. If there is a guy (nerd!) in your life, point him to JAKE'S CHANNEL.
• Zach is doing pretty good so far his freshman year. He seems to have adjusted just fine to the high school. His computer class is his favorite. They are doing all kinds of programming and he is very into it. We knew he would be.
• Unexpected stuff already his freshman year. Yearbook orders were open like the first couple weeks of school. I don't remember ever ordering them that early. And already the kids ordered their class rings. Freshman year? I think we got ours maybe when we were sophomores. Maybe I'm wrong. I just wasn't prepared for it when the packet came home and showed me all the $$$ we needed to come up with.
• Chloe is our busy girl. She's in gymnastics again this year and is gearing up for her first meet of the season. This year is the first she will compete for a score. Her shiny new USAG # arrived in the mail the other day (you have to be registered with USA Gymnastics to compete above Level 3 Fun Meet status) and I think she's ready!
• She is also in choir at school this year and they have been preparing to put on a little musical, Beauty and the Beast. I was really proud of Chloe for trying out for an acting part. She didn't get one this time, but I'm so impressed she did it. Such a brave girl, always wanting to be a part of everything. So very much her father's daughter.
• It already snowed once this fall, but we are about to get our first real, stick to the ground, get out the window scraper and maybe a shovel kind of snow this weekend. If you've followed this blog for very long, then you know I am not a fan of winter. Ugh! But I do enjoy snow leading up to and through the holidays. Once January 1st rolls around, it can stop, though. Last year was the worst for snow days and we ended up extending the school year into mid-June. Forecasters are predicting a worse winter than last. Double ugh!
• The snow does make me want to get the house ready for the Christmas tree and pull out all the Christmas movies and start watching, though. That might have to start happening this weekend while the snow is falling.
• Have a wonderful Wednesday!