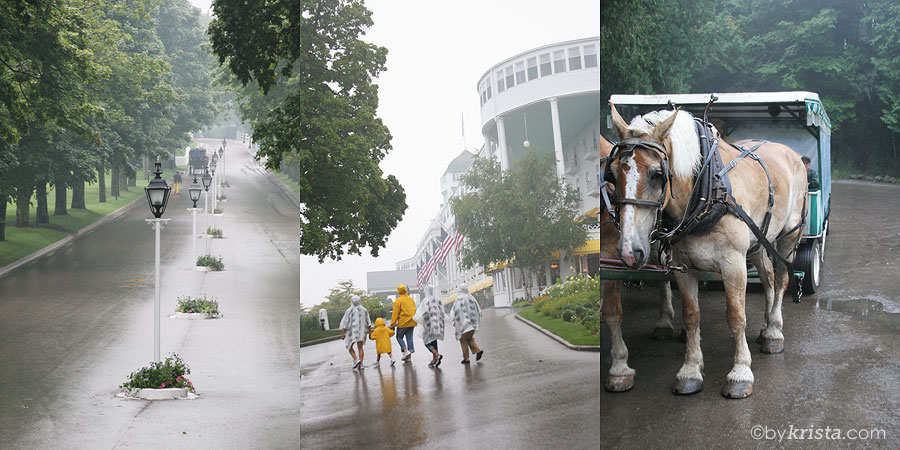 Mackinac Island. August 2005. Taken on our 10 year anniversary trip.
Have you ever had one of those days (or weeks) when things did just not go your way? I'm sure you have. That's been the past week (or three) for me. Just one little thing after another for days, nothing huge or catastrophic, but things won't seem to go right and it all adds up, until you're sitting at the bank, trying to get money out to rush to your daughter's school so she can eat lunch today, but the ATM machine is down for service, and you burst into tears for no good reason. Yeah … that happened.
Things don't always go as planned.
We had a lovely trip to Mackinac Island planned for this weekend. A little post-birthday trip for Zach. Some of Jake's side of the family were on board with the plan. But with a forecast of rain and thunderstorms all day Saturday, we had to postpone it. I'm sure that added to the intensity of my little breakdown this morning.
God's plans are better than mine, though. I needed a reminder of that. Life doesn't always happen the way we want it to.
I thought about this verse today. God's ways are not our ways.
"My thoughts are completely different from yours," says the Lord. "And my ways are far beyond anything you could imagine. For just as the heavens are higher than the earth, so are my ways higher than your ways and my thoughts higher than you thoughts."
Isaiah 55:8-9 (NLT)
There is a lot more to this verse and the passage it comes from than relates to my little plans falling through or things not going the way I wanted them to today, but it gives me comfort. Maybe there is a bigger reason we aren't supposed to go to the island this weekend. Maybe when we do finally go, the trees will be changing to beautiful colors, the weather will be glorious, and we won't have to walk around in the rain, ducking lightning bolts all day.