This was the first year that I didn't take a picture of the Mackinac Bridge. No idea why. I took this one (above) out the window as we were crossing. Look at the color of that water. Our Great Lakes are so gorgeous. This is the Straits of Mackinac that connect Lake Michigan to Lake Huron.
OUR CAMPSITE. Here's our campsite once we got it all set up. Jen owns all the camping supplies because she camps a lot more than I do. After ten summers of camping together, I pretty much know everything she's got and where she keeps it. She's super organized and always thinks of everything. The screened in tent was something she bought a few years ago and it's been great to be able to sit under there to eat, to protect our food from the bugs (Except this year! We were killing flies left and right!), and to keep us dry if it rains, which it did.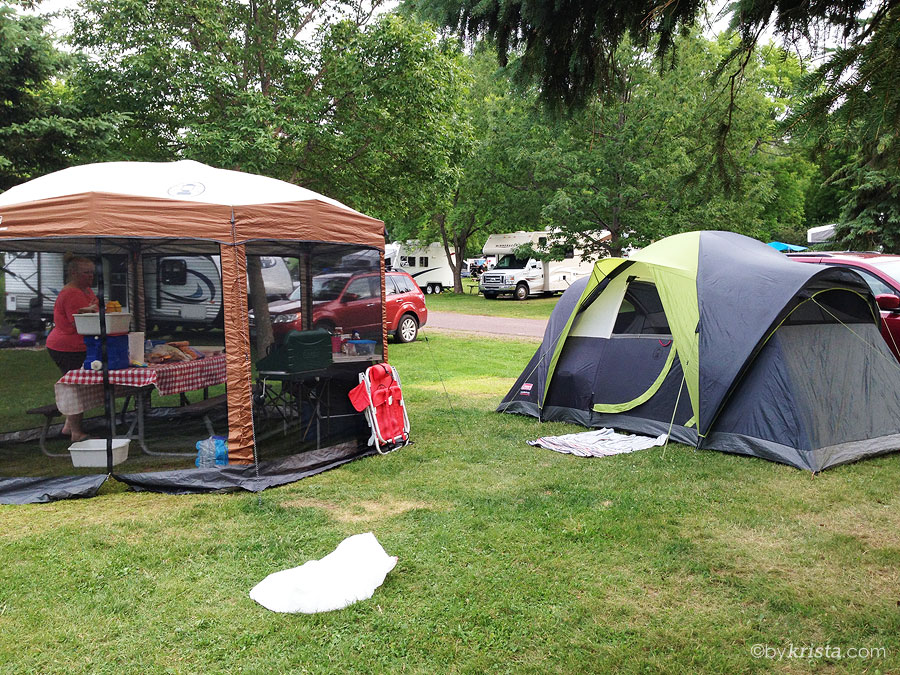 OUR CAMPFIRE. In the background, you can see our neighbors under their screened tent. You can also see the fence and the little electric box, where I charged my phone. If you read the tales I shared the other day about our trip, this is the spot where the line of baby raccoons came parading out to their mama, who was under the neighbor's tent. Eeeek!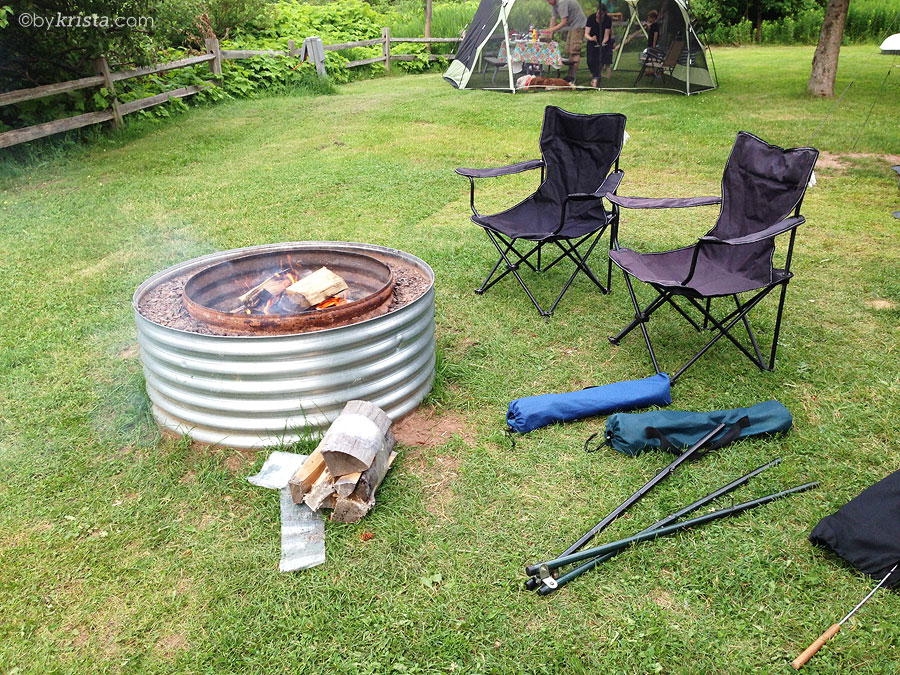 Love me some burnt marshmallows. Mmmmm.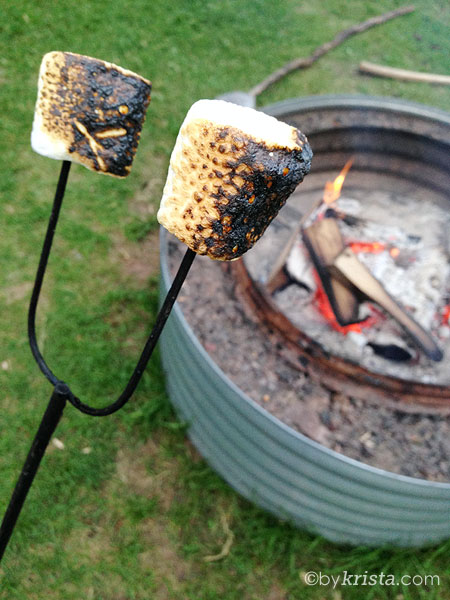 OUR RESTROOMS. These are the lovely temporary restrooms that were set up in the campsite next to ours in place of the modern bath facilities, which had been demolished and were in the process of being rebuilt. I actually just received an email the other day from the DNR informing me that there was construction happening on the bathroom building and about the temporary restrooms, but it said "for your upcoming camping trip on July 16th" and I received the email a week after that. Duh! We had to laugh at the title "Royal Restrooms". They might be perfect for a wedding or smaller event, but when you've got so many campers using them daily, week after week, and often overflowing the toilets (gross!), well, it's far from a regal experience.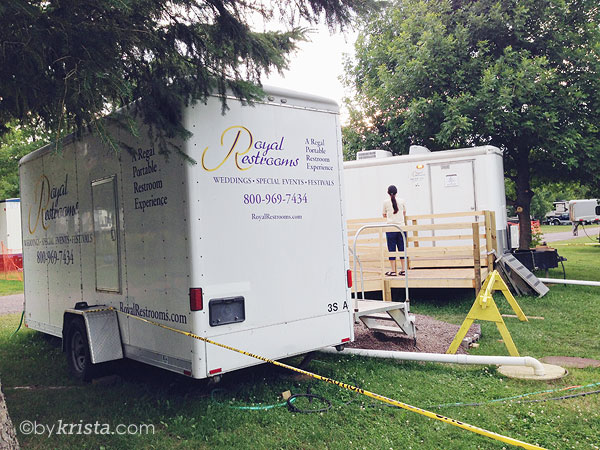 OUR MEALS. I didn't photograph all of our meals. Gasp. We always bring along marinated chicken, veggies, and Jen added salmon into the mix the past couple years that her parents caught fishing. We cook the meat/fish and veggies in a tin foil packet over the fire. So good. Jen also has a small Coleman grill that we use to heat water for coffee/tea. This year, she invested in a griddle for the grill, so she cooked up some pancakes and sausage, which was so yummy. If you follow me on instagram, you will have seen that our sausage had a mind of its own. See that HERE. When we are out and about for the day, we make sandwiches and take a small cooler with us. And hobo pies are a favorite. We had pizza hobos the first night and hobos with pie filling the last night (I had apple! Yum!).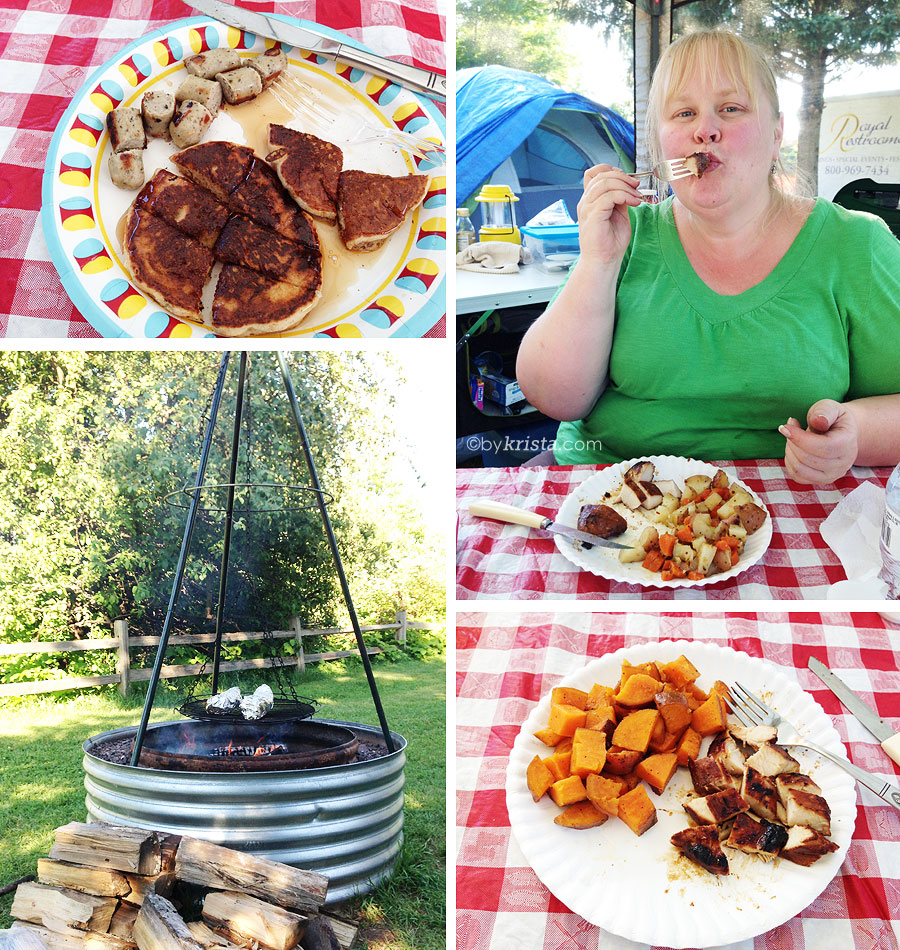 On the last night, we had a bit of a rain storm blow through. We sat under the screen tent while it passed. We ended up playing Uno by flashlight. And we might have taken pictures of Jen making scary faces with the flashlight pointed under her chin, which made me laugh hysterically, but I won't share those here.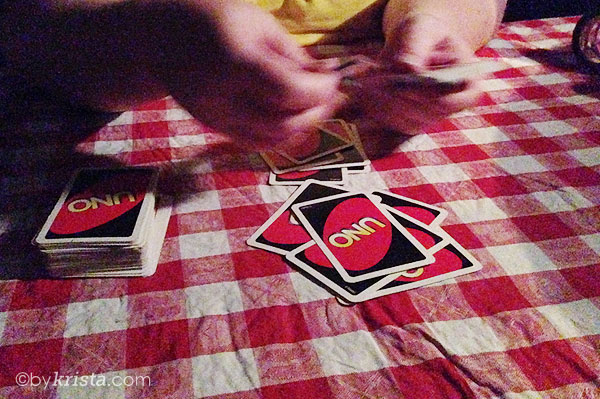 More pictures to come of all the sights and the beautiful sunsets we saw.