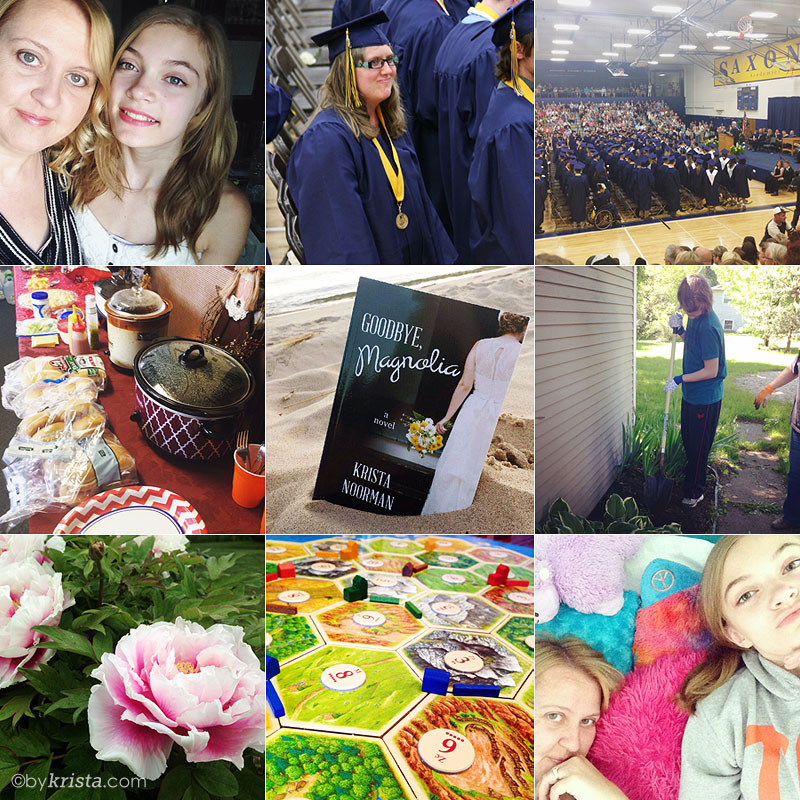 It's always nice having long weekends together. The kids always have Memorial Day off, of course, but they also had no school Friday due to some extra time that was added to the school day to make up for excess snow days. I guess we earned enough extra time to have that day off. Jake only had to work half a day on Friday, so we had a really nice long weekend together.
FRIDAY
We did some gardening on Friday with my Mom. She brought over a whole lotta bags of mulch, and we weeded the garden and around one side of the house. Mom and Zach worked on replanting some things that needed to find new homes. Both the kids were pretty good helpers, except for the constant complaining that they were hungry. They are always hungry.
On Friday evening, we went to our niece Kaylea's graduation. Whenever I attend a graduation ceremony, it takes me back to my own. What I remember most about that day is this overwhelming feeling of importance, like I just accomplished something, this huge milestone in my life. It's so funny how feelings like that can come back in an instant. I felt it again on Friday for Kaylea and her classmates. So much hope for the future.
It's hard to believe our nieces and nephews are graduating. And we'll be attending graduations for the next three years as our nephew, then our niece, then our baby boy Zach all reach this milestone. I don't even want to think about it.
SATURDAY
It was a morning for sleeping in. I needed it after a long, busy book launch week. The kids, especially Zach, will sleep until noon if you don't wake them. And Zach pretty much did. It was a work day around here in the afternoon. Chloe reorganized and cleaned her room. Zach mowed the lawn. Jake and I worked on de-cluttering the front porch.
SUNDAY
We had a family day at my parents' farm. Mom grilled up so much food – burgers, dogs, brats, chicken. All very tasty. We hung out and played two very long games of Settlers of Catan. I do enjoy the game, but I suck at it. I always put my settlements on places I think have so much promise – with numbers that are rolled fairly often and locations that have the possibility to get me lots of resources I need. But it never fails that numbers that were rolled so often in one game just never get rolled in the next. ugh!
MONDAY
I put off all the household chores this weekend. By Monday, there was a huge pile of laundry and dishes stacked sky high. All afternoon, I ran loads of laundry and folded them. By 9 pm, I had no energy left for the dishes and I went to my desk to write this post. The dishes can wait.
COMING UP
Things at school are coming to an end over the next couple weeks. I knew once Spring Break was over the rest of the year would fly right by. It always does with all the end of school year events and such. Chloe's new season of gymnastics training (three days a week now!) will begin soon, too.
THANKS AGAIN!
I just wanted to start this week with another big THANK YOU to those of you who have ordered your paperback or downloaded the eBook of Goodbye, Magnolia. I've started to hear from some of you already with the sweetest compliments about the book. It makes me so happy. I hope you'll tell your friends and family about it and leave a review on Amazon or Barnes & Noble. You can pick up your own copy HERE.
What's up next for me?
I've been asked this a few times lately and in one of the interviews I did last week regarding the book. I've started writing my next book. It has no title yet since I'm in the very early stages of this one, but it will be another book in the same world as Maggie and Simon, taking place along the same timeline as Goodbye, Magnolia, but from another character's perspective. I'm not giving away any more than that right now, but I think it will be a good story and give even more insight into the characters you are all loving from Goodbye, Magnolia.
Have a wonderful Tuesday!