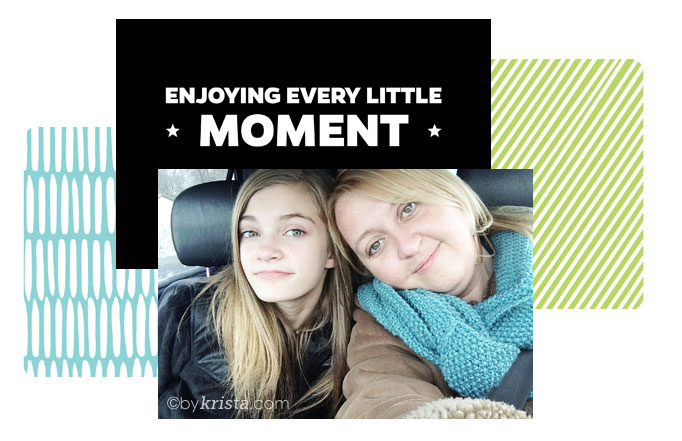 Yesterday, we had SNOW DAY #7. It was actually an ice day. Freezing rain covered everything in the morning. Our driveway is like an ice rink right now. It's ridiculous. It snows, then melts, then freezes, then repeats the cycle. We look crazy walking to our cars and trying to step only in the spots with crunchy snow because under the light feathery stuff, it's a sheet of ice.
All of us were home for the day. Even Jake chose not to risk the roads and worked from home. It's so nice that he can do that when needed. Most of the ice on the roads was melted by late morning, so we were able to get out.
I spent a good chunk of the afternoon sorting through photos from the past few weeks, choosing the ones I wanted to use for my Project Life album, editing, resizing, laying them out in Photoshop, then browsing through my digital kits to see which cards looked best with the colors in my photos. A few I chose for Week 2 are in the collage above. I will be sharing more pages in a little over a week for our next Project Life® Blog Hop.
IN WRITING NEWS …
I am getting into a serious groove editing Goodbye, Magnolia. My goal is to finish the big edits by the end of February (maybe sooner if I can keep it up!) and share it with my family and some friends for their input before I do more edits. Still no concrete release date yet. If you want to be the first to hear about the book release, SIGN UP for my NEWSLETTER!
Also, over on my Facebook author page, I will be sharing photos of some of the locations in the book in the weeks to come. I already shared one – the location of the final BIG WEDDING. If you aren't following me there yet, hop on over and click "LIKE" to get all my posts in your news feed.
Hope you all have a wonderful weekend! May you take time to be with your loved ones, really be with them, not just on your electronic devices the whole time. I'm going to try to take my own advice as well.