When I think back on my one little word for 2014 – OPEN, I feel like it has been a good word for me this year. I've been (tried to be) open to what God wanted to show me this year. I've been studying the Bible more (the She Reads Truth site has helped so much with that) and really taking everything to heart. I opened up and got over my fears and insecurities enough to share my book with family, then published it and shared it with the world, which was terrifying. I've been a little more open-minded (a teeny tiny bit … this needs work), opened up my heart some more for healing, and been open to new things, new ideas, new people.
At the same time, there were not so happy things about my word as well. When you open yourself up, sometimes it hurts or can bring pain if you allow it to. And I did at times. I let old ways, old feelings, and old pain affect me and my mood and the way I functioned as a wife and mother and writer. I wouldn't say that it was really a bad thing, though. I did learn more about myself as the months went along. But some days I was just in awe of how God still loves me even when I have to be taught the same lessons over and over and over again. It's got to be so frustrating for Him to deal with me sometimes.
Overall, I'm happy I chose "open" and I want to continue to let that word be a part of who I am.
I've had my word for 2015 stuck in my head for months now. Seriously since the fall.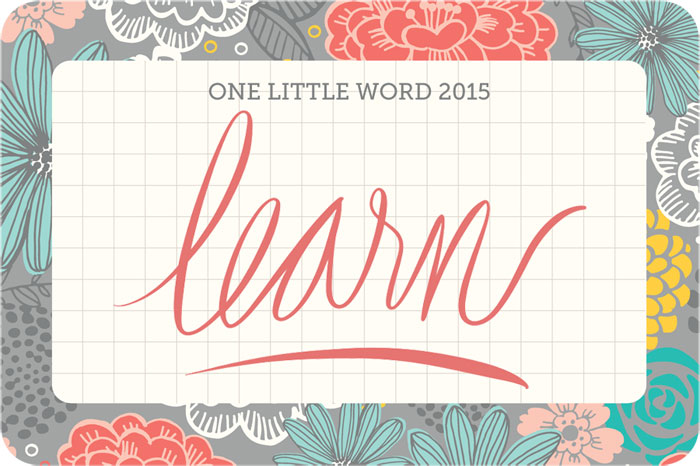 Project Life® card from the digital Dazzle mini kit
learn
definitions: to gain knowledge or understanding of or skill in something by study, experience, or instruction. to hear or be told something. to find out.
synonyms: get, master, pick up, get the hang of.
Back in September or October, I made a long list of things I want to learn. Quilting. Calligraphy. Sewing. Book binding. Letterpress. Watercolor painting. A bunch of fun crafty things. And lots of people and topics I'd like to learn more about. Former presidents. More history of Biblical times. Fascinating people. Books I'd like to read. Movies I'd like to see. As I get older, more and more things interest me and that thirst for knowledge that just wasn't there in my younger years is alive and well now that I'm in my early 40's.
So what I hope to accomplish with my word this year is to learn at least three things from my list of crafty skills and to read a few biographies (not sure of who yet) and older classic books I've never read. I'm not going to make a list a mile long of things I want to learn because I know that's just setting myself up for failure, but I think just a few is totally doable. We shall see. I'll be posting about them here on the BLOG under the category in the archives – one little word.
What's your ONE LITTLE WORD this year? Leave a comment below!