me + Chloe selfie. Annie, MiMaw's pug. Project Life 2014 first page cards are in the album!
• Christmas morning. What a blessing to wake in our cozy warm home with power back on after the ice storm outage. The kids actually slept until after 8, which surprised me. They are usually up at daybreak begging to open gifts. It was a nice time together. The kids loved all their gifts. The center picture below cracks me up and I'm so glad I captured it. This is the face Chloe got when opening several of her gifts. She looked like she was so insulted by the gift, but it was immediately followed by "This is exactly what I wanted!" Such a funny reaction.



• Christmas dinner. Since my parents were without power through Christmas (they actually didn't get power back until the Friday after Christmas), I was put in charge of making dinner and transporting it over to their house. Nothing too difficult. Ham in the crock pot overnight. I made corn, mashed potatoes and rolls the morning of and we got everything there nice and hot for our meal. When we arrived, Mom had made gravy and Stove Top stuffing by heating water over one of their furnace vents that gets nice and hot. It totally worked. haha!
• Gift exchange. We had a fun time exchanging gifts. This was the first year in their new family room addition. It was a bit chilly with just the wood furnace going, so we all kept warm under blankets. It was interesting with no electricity this year. No lights on the Christmas tree or around the house. But we were all there together and that's all that mattered.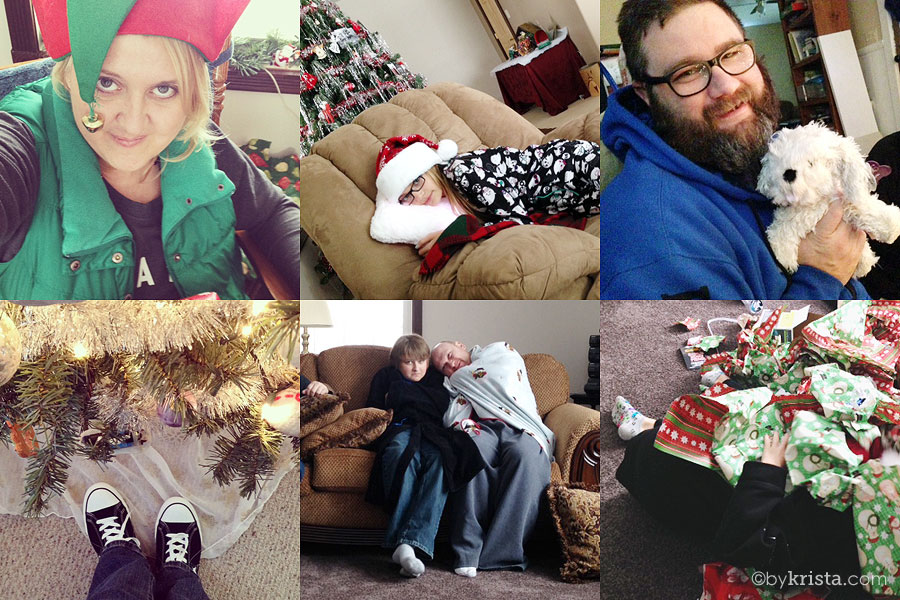 top row: Santa's elf. Chloe in her new pj's from Grandma. Jake said he wanted a puppy for Christmas, so this is what he got – a stuffed labradoodle named Karina.
bottom row: My new Converse One Stars from my hubby. Zach and Uncle Rick staying warm. Chloe under wrapping paper.
• Visiting MiMaw. On Friday, we traveled to Port Huron to drop the kids off with MiMaw and Poppi for a few days. It's been kind of nice having some time together, just the two of us, no kids.
• Date night. We went out to dinner and a movie for the first time in months. Finally saw Catching Fire, which was excellent, by the way. Did a little shopping with Christmas money I had to spend. Got page protectors for my 2014 Project Life album and bought a Nutribullet. Loving that thing so far. Very easy to use.
• Project Life. Spent some time putting cards in the Project Life album. First page and title cards are loaded. Excited to get started and also to share more of my album this year as I go along. Not sure I'll be able to keep up with sharing my pages every week, but I will be sharing more as the weeks go by.
• one little word. Thinking about my word from this year – know – and what my word for 2014 will be. I'll blog about that here very soon.