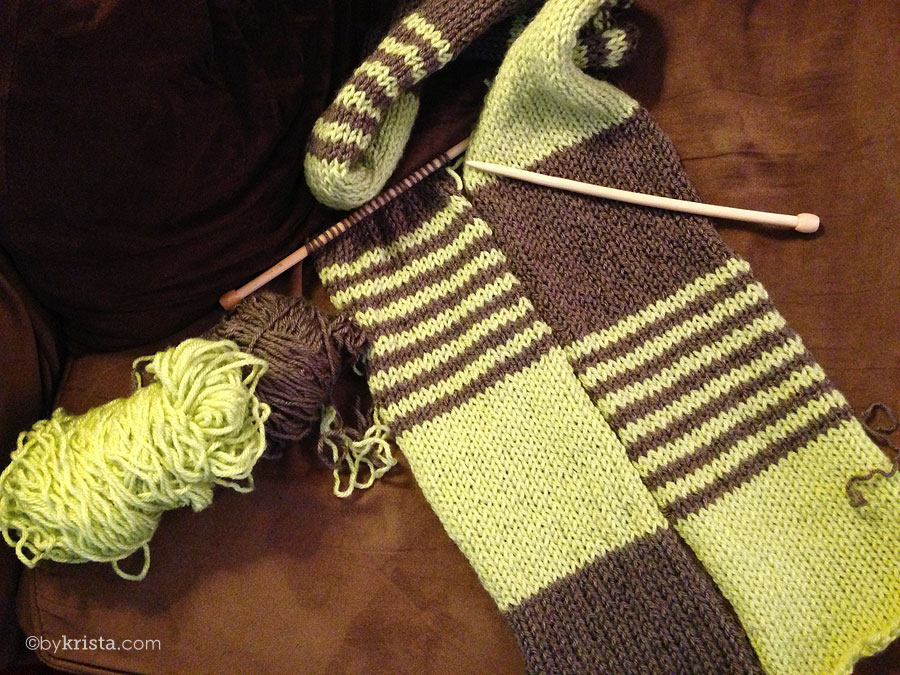 The knit blanket (totally inspired by Elise's) is coming right along. I have column number one done (this photo is of the first column laid next to the one I'm currently working on) and will probably be spending this evening working on it. In case you are in a knitting mood, here is how I'm making mine. You can make the blocks any size you want. I cast on 25 stitches. In my mind I thought I would make them 25 stitches across x 25 rows, but I am doing knit a row, purl a row, continuing for every row, so you sort of have to stop on a purl row and then switch colors, so each block is 24 rows (even though the width is 25, which doesn't really matter). And you could actually make them wider rectangles if you didn't want squares, too. So many options, so little time. I am doing 9 color blocks per column – repeating the pattern green block, striped block (which is just -knit row, purl row- one color, then -knit row, purl row- the other until you get to 24 rows), then grey block. Not sure how wide it will be yet. Will lay out the columns as I go and when I'm happy with the width, I will sew the columns together. I'm just kind of winging it, no real set plan, just easy stitches, no intricate patterns. Such a relaxing project to work on while watching TV or a movie (or your son playing the video games he got for Christmas). I'll share again when I'm finished.


About five minutes from now, my husband will be starting the 4-mile Resolution Run in East Grand Rapids at Reed's Lake. He and his Road Warrior team are all running it as part of their training for the big 25K Fifth Third River Bank Run in May. I'm pretty happy that Jake has become a runner and is a part of this team now. There is a lot of training and several running events that will pretty much be our life for the next five months. Even though Jake is very busy with all of that, I know that he will come out of it more fit and healthy and he will probably look a little more like the man I married 17+ years ago.
I'm very proud of him.
Hope you have a wonderful and safe New Years Eve!