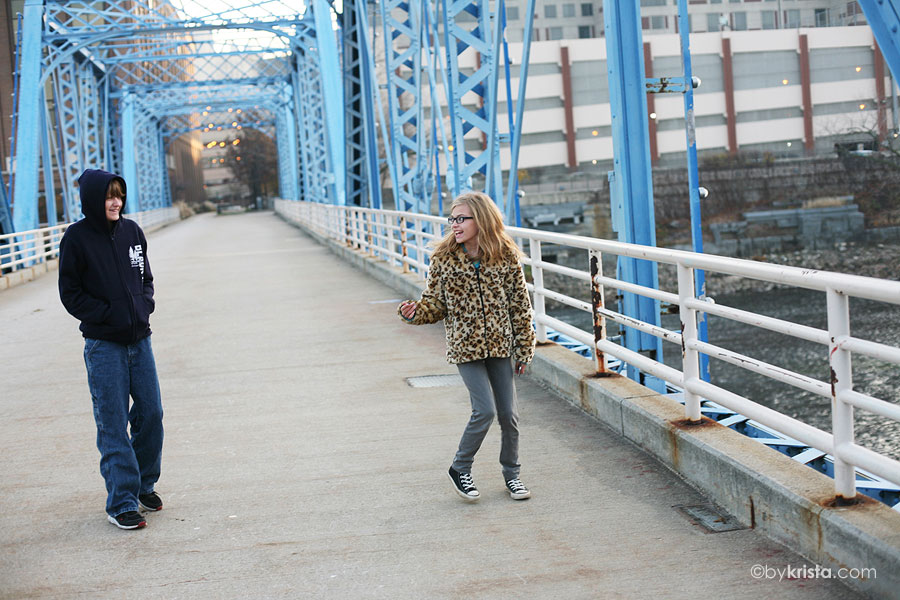 The past couple weeks. Busy. Busy. Busy. Lots of stuff going on surrounding the Thanksgiving holiday. On Saturday, the 17th, we got up before sunrise and drove up to GR so Jake could take part in the Santa Parade downtown as part of the Riverbank Run Road Warrior Team. It was chilly chilly that morning. The kids and I walked across the blue bridge toward Monroe, where the parade would be coming through, while Jake went to meet up with his group at the staging area. We found a nice place to wait for the parade, took a seat on the curb, and froze our bums off waiting for the parade to start. It was a nice parade, though. Jake was toward the end (lower left photo below) of the lineup, not too far from Santa.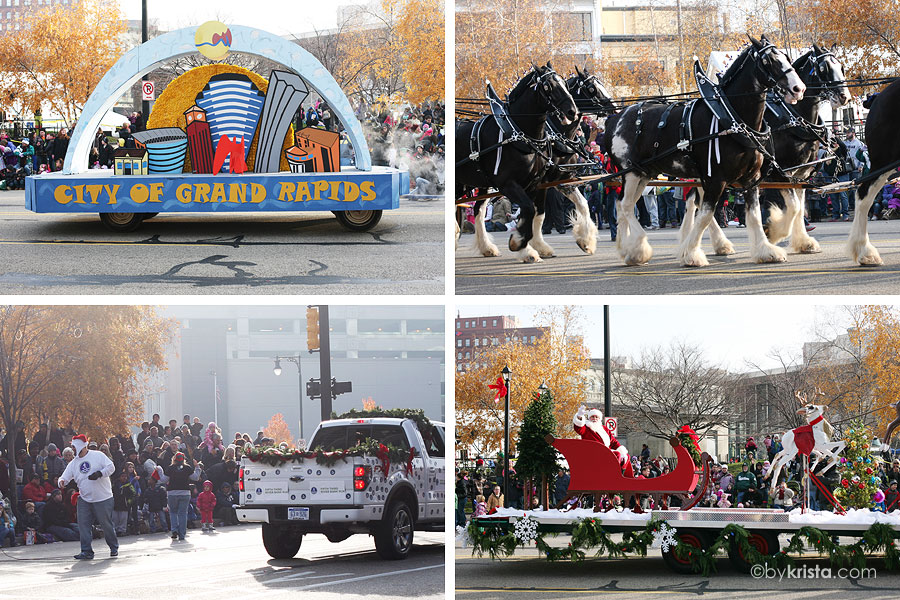 Went to the farm on Sunday evening and helped Mom decorate her Christmas tree. It looks so nice in there. I love that they have that bannister. It always looks so pretty all decorated up.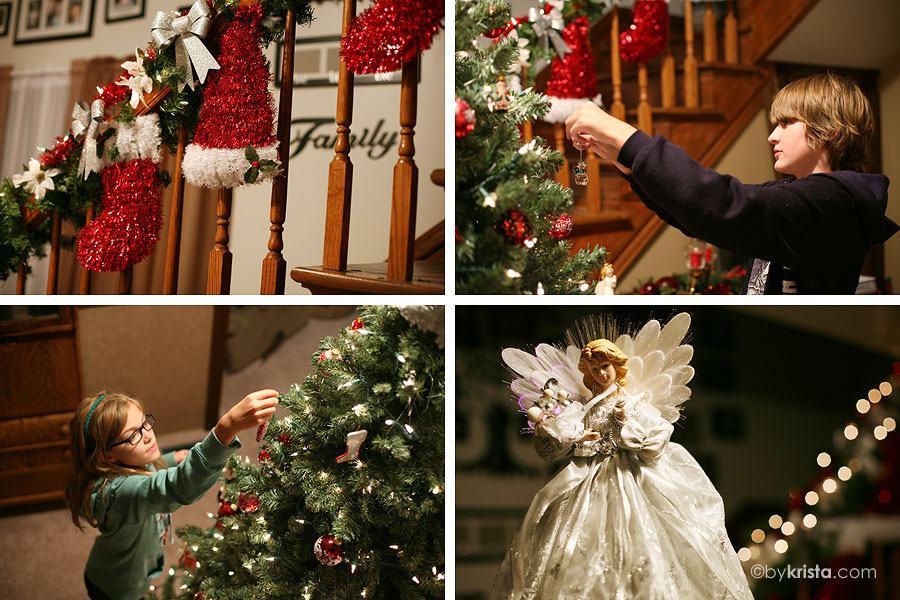 On Thanksgiving, we went over to my parents house for a nice dinner. So delicious. We hung out and played games and took some family pictures for Mom's Christmas card. Then we went outside and Mom took some pictures of our little family for our cards, which I will share here once I send all mine out.
It turned out pretty cute.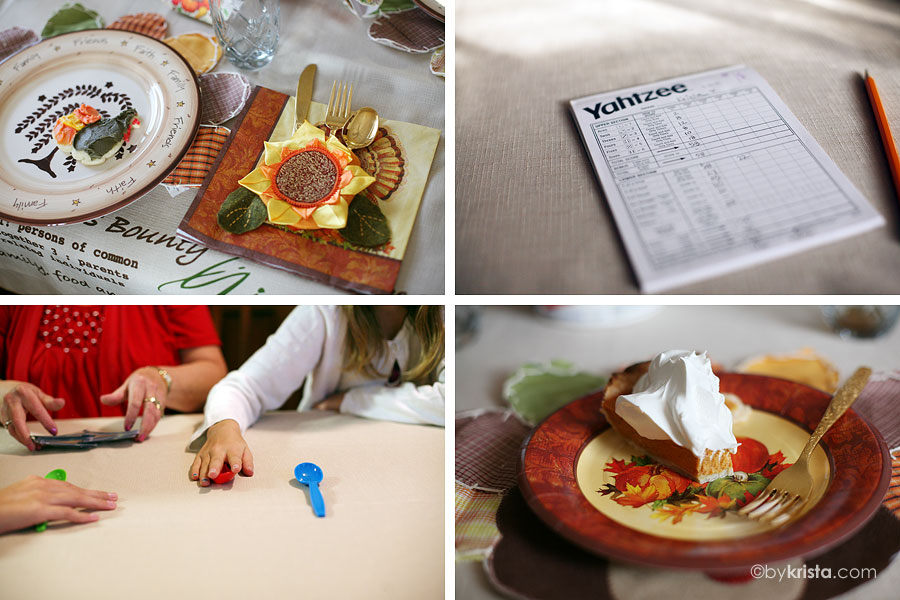 On Friday, I did some online shopping instead of venturing out into the crowds of Black Friday shoppers. It was much more enjoyable sitting here in my sweats and slippers.
We got up early on Saturday and drove down to my grandparents farm in Ohio. This year, it was decided that we would have Christmas at Thanksgiving. We've never done that before, but we gave it a try. Not everyone was able to make it, though, so that was kind of sad, but the rest of us had a great time together.
(left) Somebody (Eli) wants his presents. (right) Uncle Dan carving the turkey.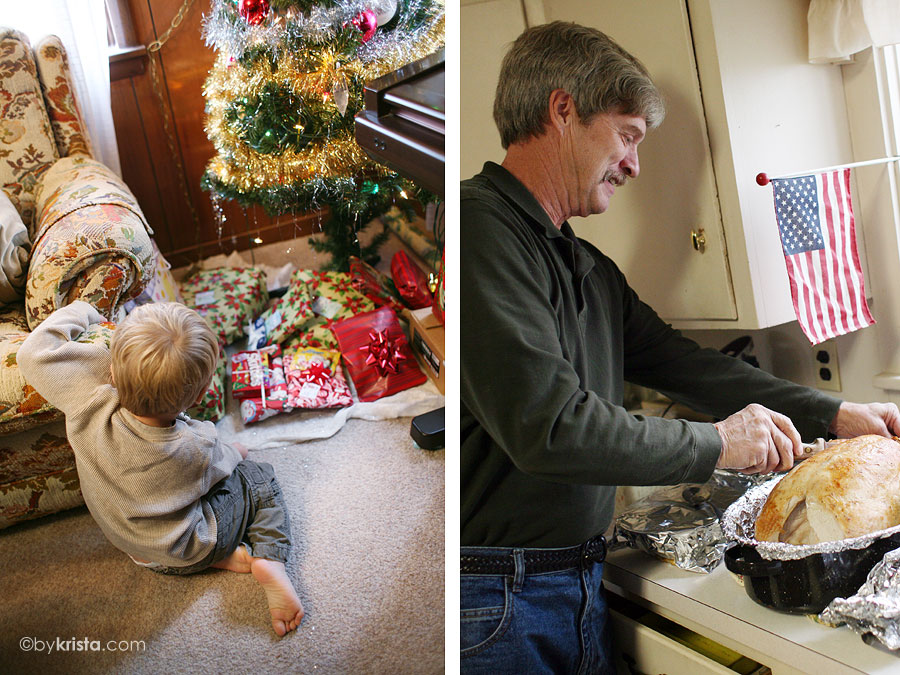 (upper left): Eli woke from his nap. (upper right): Uncle Dan gave all the guys tape measures for Christmas, so they all decided to extend them out at the same time. We were cracking up. (lower left): Chloe got the "C" pillow from Justice she's been wanting. (lower right): the newlyweds!


(upper left & right): We didn't do the usual name exchange like we usually do, so Mom had the idea to put together photobooks – sort of a visual family tree – for everyone. I spent a couple weeks scanning photos and designing the book for her. Everyone really seemed to like them. I will share some pictures of the book here on my blog at some point. (middle left): Zach got a paper airplane making book/kit and Eli had a blast throwing the planes around the room. He was laughing and smiling. It was the cutest thing ever. (middle right): Jake found another use for Chloe's "C" pillow. (lower left): Tyler was in the woods doing some hunting all afternoon, so he was the last one to open his gifts after the sun went down. (lower right): Three sister-in-laws. Aunt Suzanne, Mom and Aunt Rosie. Missing Aunt Deb, though.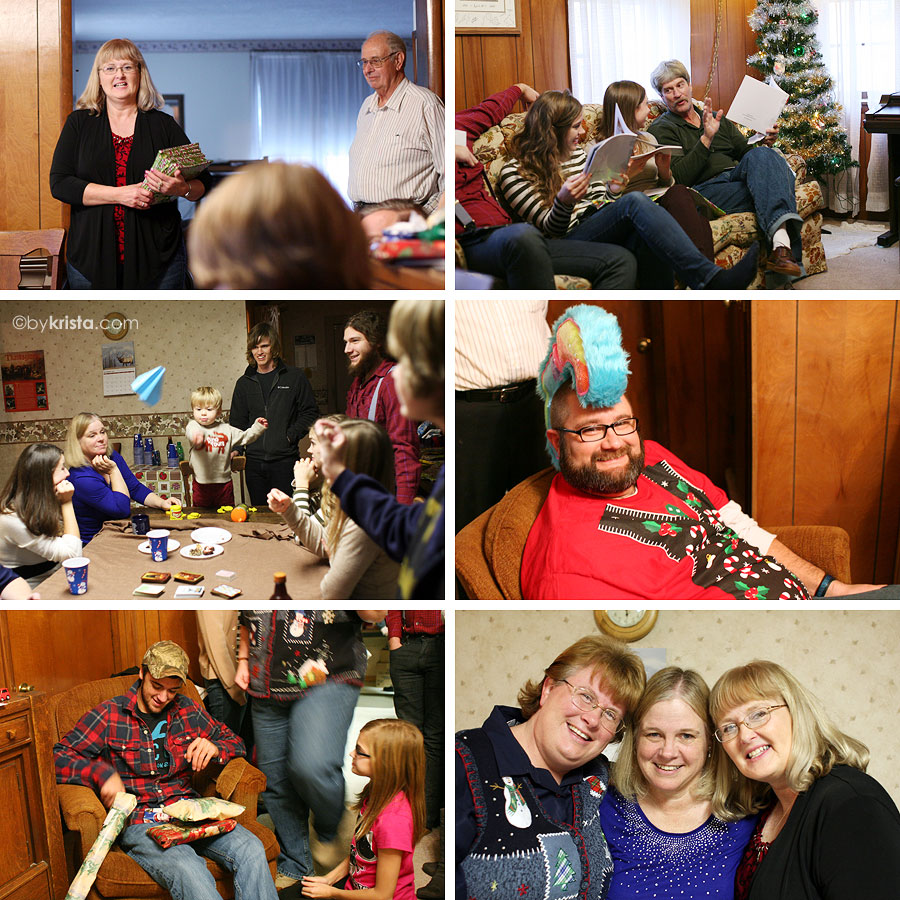 It was a really nice day with family. I think Christmas at Thanksgiving was a success. It felt a little weird having it a month before Christmas, but we played some Christmas tunes on the way down to get in the mood. Grandpa played us one of his tape-recorded sermons from years ago, too, with special music sung by my Grandma. It was strange not having Grandma there this year. Even though she hasn't been able to really participate in the festivities for several years, her physical presence was missed, but I know she was sitting with Jesus smiling down at her beautiful family all together celebrating His birth and giving thanks.
Yesterday, my mother-in-law and I traveled across the state to be with Heather and Jeff for the birth of their sweet little girl, Violet. It was so wonderful to be there to welcome another member of the family into the world. I loved being a part of that and taking lots of pictures for them.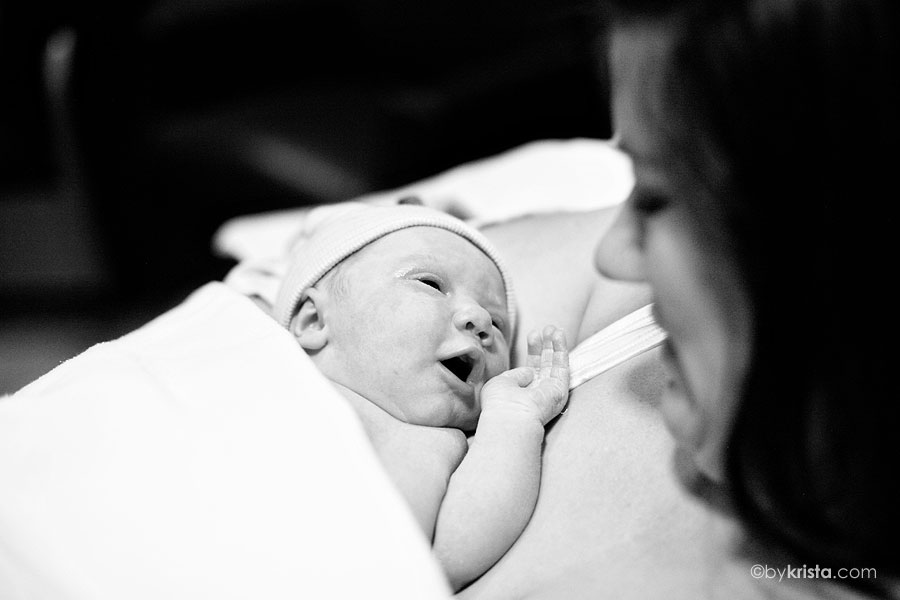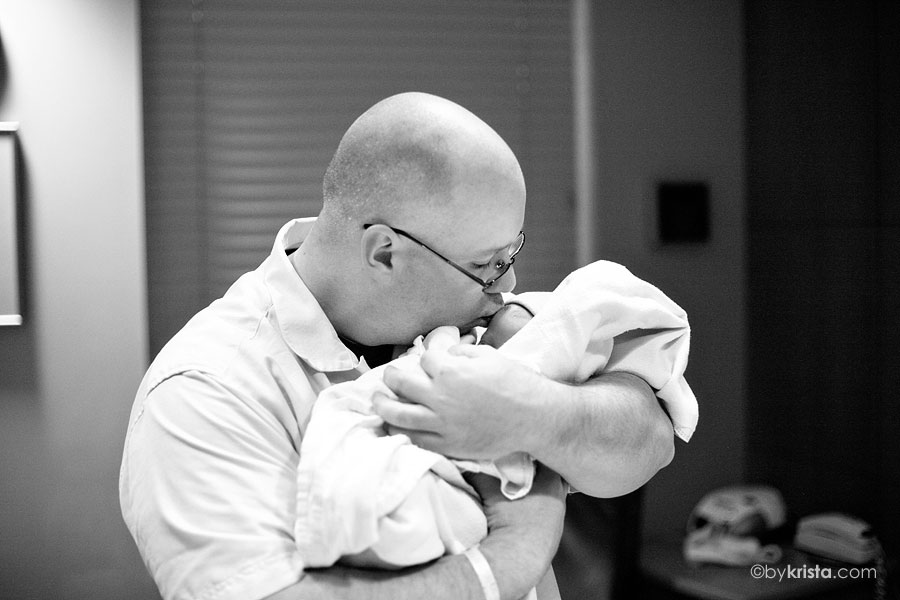 It was such a quick process this time. With Scarlett, we were at the hospital for over 24 hours. This time, she got started with her induction around 9:30am and had the baby at 3:45pm. A little over 6 hours. It was AMAZING! She had her pushed out in 15 minutes, as opposed to an hour with Scarlett. I was so proud of her. And Violet Ellaine is just perfect.
This month is coming to a close and I know next month will be just as busy with Christmas fast approaching. I already feel ahead of the game this year, though. I have a lot of the gift buying done already, which is so strange and foreign to me. I am usually a week-before-Christmas shopper. But we have the tree up with the lights and garland strung. Just have to take some time one night this week and let the kids decorate it and put the angel on top. Then it's time to pull out my advent boxes. The kids really like that tradition so I have to keep it going.
How have I done with my goals, you're wondering? haha.
Running Well, I ran once this month. I did walk with Mom once, too. I am going to help her get going on the Couch to 5K program, too, so she can join us when we run the Fifth Third 5K. I didn't gain any weight back or anything this month, even with the holiday eating, so that's good. Just have to get back to running and moving more in December.
House projects I got almost everything done outside on the house that I wanted to before winter. I still have things I wish I'd gotten to, but we got quite a bit done and the biggest thing, the trim on the house and garage, is mostly done. Just the back of the garage is not finished, so I think we did pretty good with that. Still need to choose a color for the front door and get some house numbers. I took the old ones off our garage 'cause they were brass and ugly. I was worried about not having numbers on the house somewhere until I go pick some out, so I took white paint and painted the numbers on the front door. haha! It looks crazy, but at least the house number is there for now. I really need to go take a picture of that so I can remember how weird I am.
Christmas projects Done and done. The one project I was working on was the Family Tree books for Thanksgiving/Christmas last weekend. I also finished designing our Christmas cards and got those ordered. And I finished one of the photobooks I had been working on forever. Yay!
Tonight was Jake's very first training night for the Road Warrior team. I'm so excited for him as he gets going on this journey to health and fitness.
Hope you all had a wonderful Thanksgiving!