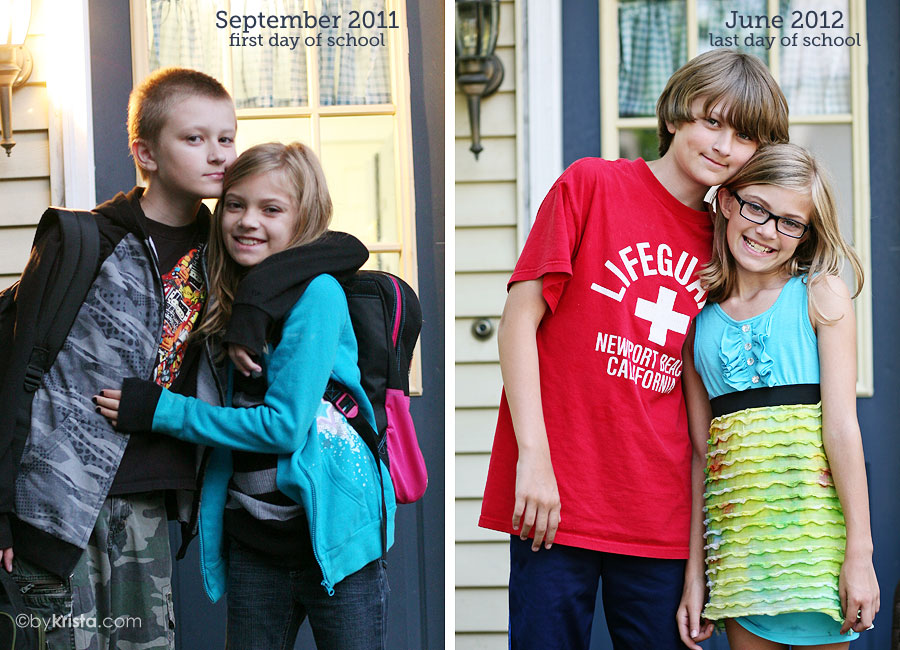 School's out for summer! It's only been four days and I am exhausted already. Mom and I had a garage sale last Thurs/Fri (a great turnout! yay!), then we went to Indiana for my cousin Anna's graduation open house (fun time with family!), then a day at Lake Michigan with the kids (the lake felt so refreshing on an extremely humid 90 degree day), then a morning at the dentist for the kids, lunch with my Mom and brother Rick (our waitress accidentally dumped a drink all over Chloe's pretty dress. oops!), then the first of several dance rehearsals for Chloe this week. I feel as though summer "break" hasn't actually begun yet since I'm still running around here and there. Next week will be much quieter.
We're nearing the end of Chloe's first year of dance. A couple weeks ago, she got to dance at Festival of the Arts in downtown Grand Rapids. That was really fun and her first experience dancing on stage in front of an audience. She did great and had such a cute smile on her face the whole time. Her smile at the end when they took a bow was so big. It was cracking me up.


Chloe had a fun time dancing this year, but anyone who has been around her for any period of time knows that she is constantly upside down doing cartwheels and handstands and headstands and such. So in the fall, we're going to sign her up for some gymnastics and see how she does with that. She's really excited about it.
Feeling a little unorganized and chaotic lately from everything that's going on. Looking forward to some downtime after this crazy week to work on decluttering the house, fixing up the kids' rooms, catching up on my Project Life album this year, working on some fun photobook projects I've been thinking about.
Jake has been doing really awesome on his Plan 39 – his goal to lose over 100 lbs. by the time he turns 40. He's lost some lbs. and inches and he's been running the Couch to 5K program. So far I haven't been able to join him, but I am itching to try it, too. Right now, he's running a little logo contest over on his blog. Several people submitted logo designs and now he's opened it up for people to vote on their favorites. Jump on over and vote for your favorite HERE!