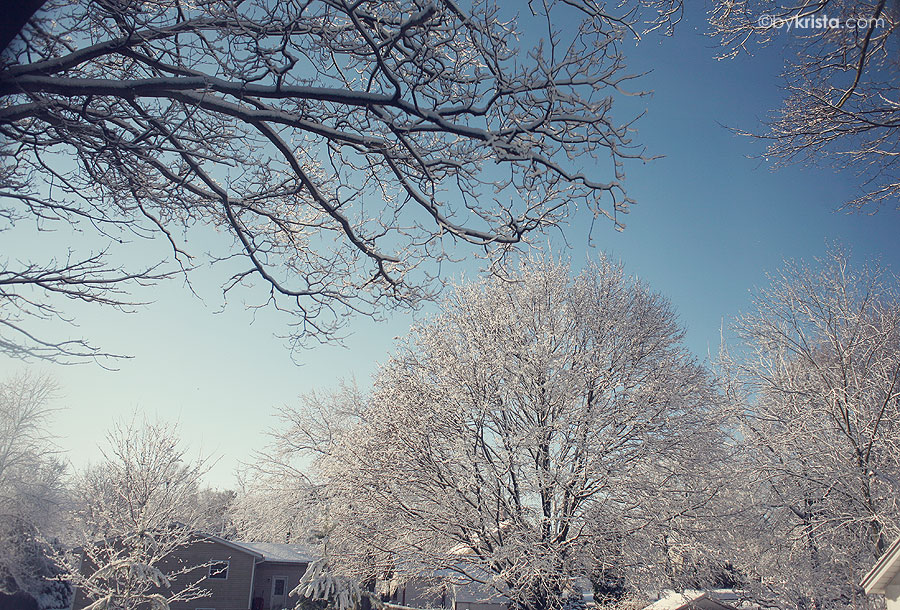 the view out our kitchen window this morning
Despite the beauty of the snow on the trees this morning, I can't shake this sadness over a conversation I had with Chloe's school counselor yesterday. She informed me that some of the girls in Chloe's class had been upset with Chloe recently. I guess on numerous occasions, she hurt their feelings. We're not strangers to little girl drama. Chloe has had problems with other girls in past years for similar reasons. She won't play with them or chooses to play with someone else instead and then they "aren't friends anymore". She isn't very sensitive when it comes to the feelings of others and that is something she needs to work on.
What bothered me the most about this conversation was that the counselor said Chloe has been exhibiting "manipulative and bullying behavior". She shared a little of the conversation she had with my daughter. After hearing some of the other girls versions of the story, she used a "fishing" analogy on Chloe, telling her that she was reeling one girl in to get her to play with her and then she would cast her aside if someone better came along. Like she was purposely manipulating them to hurt their feelings. No way would Chloe ever do that. The one thing she wants more than anything is to have best friends and be a part of everything. She would never hurt them deliberately. When I asked Chloe about the "fishing" thing, she said she remembered the counselor saying it, but she didn't really know what she meant and she didn't even know that she had done that. I told her she didn't and that a bully is someone who hurts and humiliates people on purpose. She said, "I didn't do that." I let her know that she is not a bully, no matter how the counselor interpreted the situation.
I understand that the counselor is just doing her job. She's trying to deal with all these kids not getting along and without really knowing any of them or their personalities. She wasn't saying those things to be hurtful, she was just trying to help. I get that. She pointed out Chloe's strong personality and that she could be a leader if she uses it in a good way. But it still hurts when someone uses words like "manipulative" and "bully" about your child.