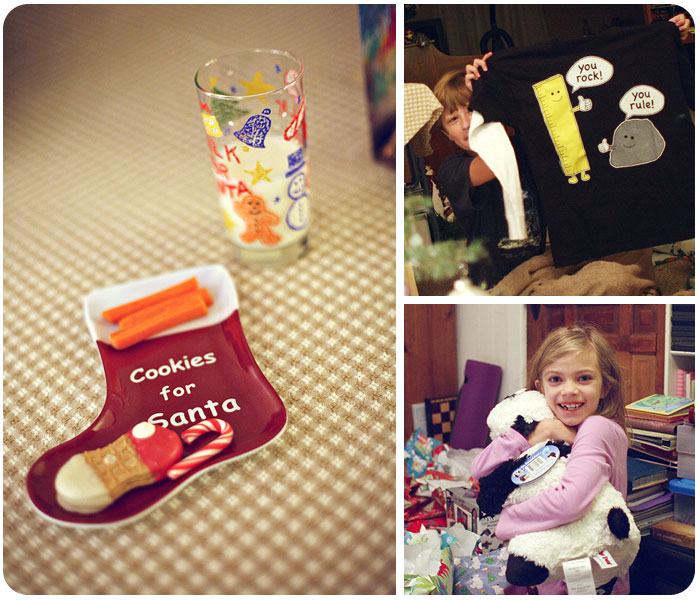 We had a quick "Christmas" this year at our house, which is why I only have a few pictures. Because of my family's Christmas in Ohio being held on Christmas eve, Santa visited our house that morning, one day early. We woke early, opened gifts, got cleaned up, packed the car and headed out. It wasn't ideal and it sort of threw everything off, but it was the only time we could all get together. We made it work.
We had a delicious lunch at my Aunt Shari's house with all my aunts, uncles and cousins. Everyone took turns holding baby Tyler, my cousin Brian's sweet boy. It's been a few years since we've had a baby around at family gatherings, and we are all just smitten with him.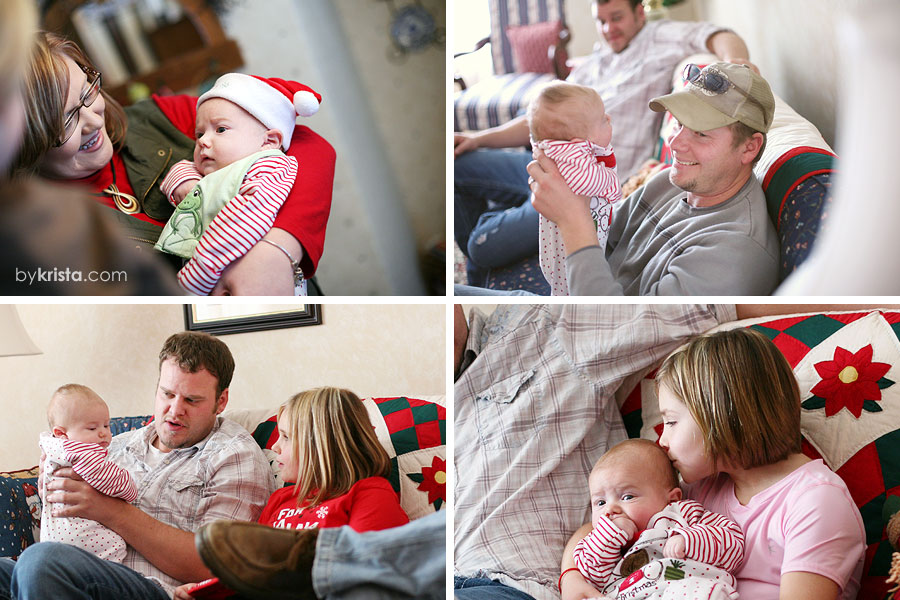 After lunch, the kids ran around the house like crazies and had a blast together, as usual. Sweet little Cooper fell asleep leaning on a rocking chair (below, top right). The kids opened their gifts and then the adults had a white elephant gift exchange. Jake got the Shake Weight, which I had never heard of before, but I guess there are infomercials for it. He started shaking that thing and everyone cracked up. We were laughing so hard. The kids then had fun hitting everyone with balloons. Cooper got his second wind and attacked the big boys, while his brother Graham fell asleep on the couch. Zach was so cute leaning against him pretending to sleep, too. Zach has always really liked Graham. So sweet.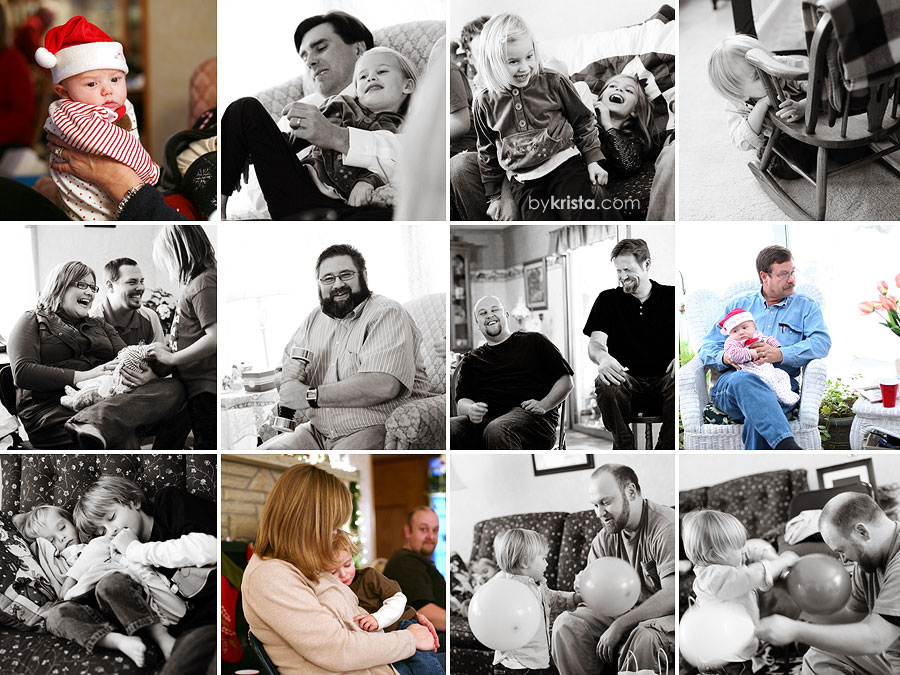 We had a wonderful time, as always. By about 5 p.m., I was so exhausted that I could barely keep my eyes open. We had been up since about 5:30 a.m. and I was so tired. We stayed at my grandparents house that night and the first thing I did when we got there was lay down on the couch.
Christmas day (Saturday) was spent at my grandparents house. It was a little strange to not be home for Christmas. We had the entire day there just my parents and brothers and us. The rest of dad's side of the family was arriving on Sunday morning for our family Christmas. So we lazed around all morning, watched a movie "Ramona and Beezus", had a delicious lunch prepared by my mom, watched both National Treasure movies, and played some games.
The family arrived on Sunday morning and we had a yummy yummy lunch. BBQ pork sandwiches made by my Aunt Deb and her daughters. It was SO good. After lunch, Grandpa went around passing out old Bibles to all the grandsons along with a slip of paper with a verse on it for them to read aloud. They went around and read the verses and we had a little Sunday church service as we always do with Grandpa. It was cool, some of the Bibles were really old and Grandpa told what each was – one was grandpa's when he was in school, one was grandma's, etc. Then we had my cousin Brian reading his verse from the Bible on his Kindle and Jake reading his from the Bible on his iPad. The old with the new.
We have a new addition to this side of the family as well. My cousin Paul and his wife Kaeli welcomed sweet little Eli last fall. I loved getting to hold him. We were bobbing our heads back and forth together and I had him smiling big. Ah, the baby fever. I'm thankful that there will be lots of baby cousins in the future.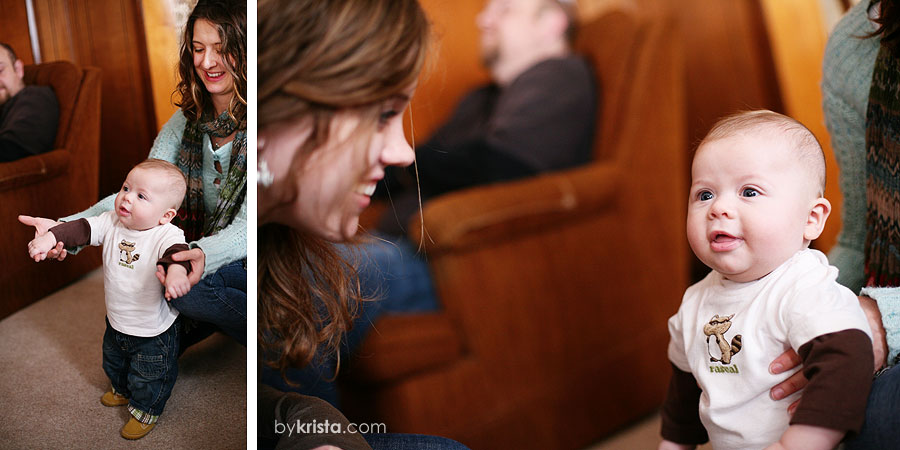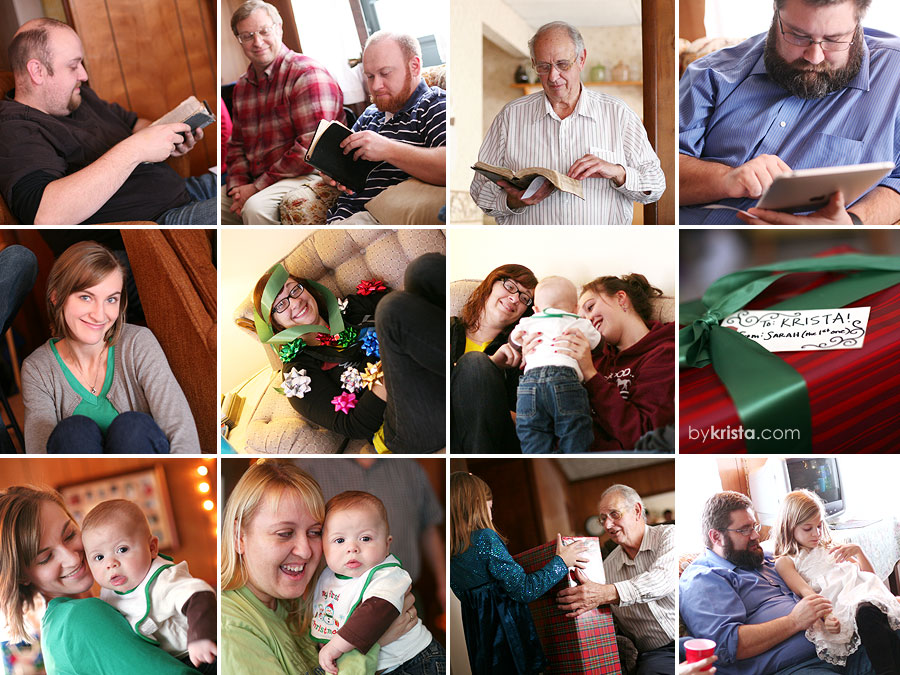 For Jake's family, we had to wait until January for our Christmases since that was the only time we could get together. We did get to spend New Years' Eve at his dad's house, though. We hung out with a couple of his sisters and all the kids. They played video games and we played board games and euchre and had snacks. It was a lot of fun bringing in the new year with them.
That next week was when Chloe got sick and I felt really nauseous for days. That Saturday, we had our family Christmas over at Jake's dad's house. Everyone was there and it was so nice to see them all. I felt queasy the whole night, though, so that took away from me enjoying myself fully. I didn't take my camera along because I just wasn't feeling up to taking any pictures, which is kind of a bummer. I hate not having pictures of that.
But now we're all well (thank God!) and ready to have our final family Christmas with Jake's mom. We are all looking forward to a weekend with Heather and Jeff and baby Scarlett. It's kind of nice stretching Christmas far into January.