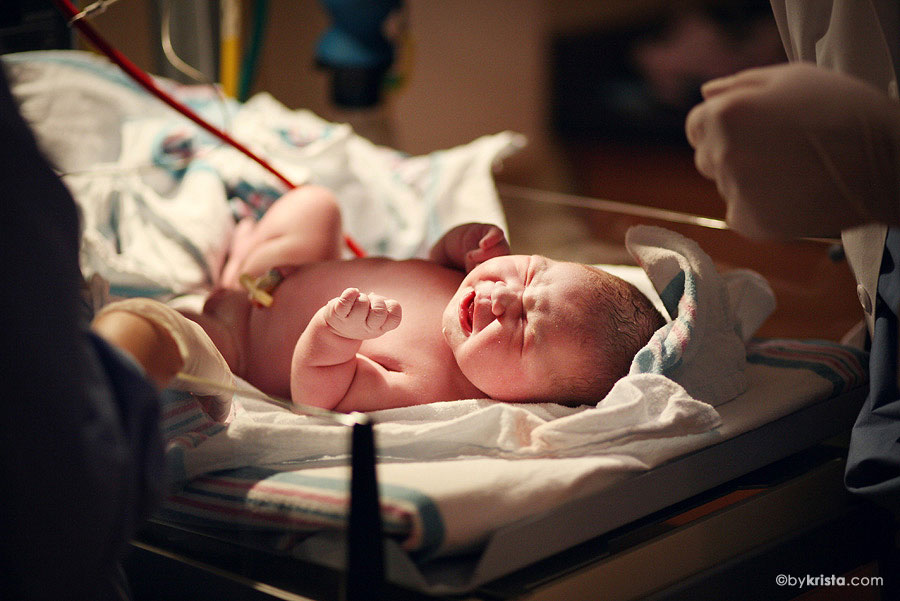 It's so hard to put into words the experience of being present for the birth of a baby. My sis-in-law Heather (jake's sis) gave birth to beautiful Scarlett Evelyn on June 29th (my brother's b-day, too, so now it's even easier to remember). They asked me to come and be there for the labor/delivery and take pictures of it all. I've had two babies of my own, but it's an entirely different thing seeing it happen rather than going through it yourself. I had trouble shooting at times, trying to hold back the tears. I just kept shooting whether or not I could see.
Mom O and I arrived a couple hours after Heather and Jeff arrived at the hospital. They decided to induce because she was a week past her due date and it was time. The process was a long one. When I was induced with Chloe, I think she popped out about 12 hours later. From the time they got Heather hooked up and began the process of inducing to the time she had the baby was a tad over 24 hours. MomO and I were there with them the entire time, too. We stayed at the hospital, kept them company, visited with family in the waiting area, walked the halls with them at 3 in the morning, and tried to grab ten minutes of sleep here and there throughout the night/day. I think I got maybe an hour of sleep total between Monday morning when I woke up (9am) until midnight on Tuesday. It was well worth it, though.
Heather did such an amazing job. She was calm all the way through, breathing through all those contractions as they got more and more painful. The nurses were all awesome, especially Sherry, who was there all day Tuesday. She talked her through the hard contractions and the pushing along with the help of Jeff and Mom O. She was a wonderful nurse and you could tell she really cared. She even stayed past the end of her shift to be there when Scarlett finally arrived.
We were all in awe of Heather because Scarlett was a very big girl, weighing in at 10 lbs. 3.5 oz. Like I said, Heather did amazing! A bunch of us put in our guesses for time of birth and weight. I don't think anyone was right on time (7:17 pm) or weight. My guess was 8 lbs. 0 oz. haha! I was way off. And I guessed 4:11am. Not even close.
I think it's going to take me a day or two to really let everything sink in. (And to catch up on sleep.)
Definitely one of the most special days of my life so far.