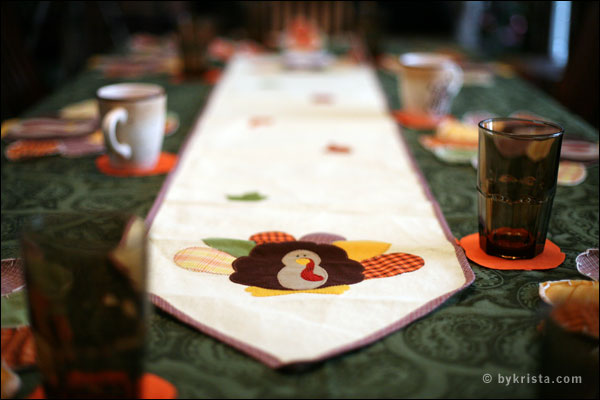 I am thankful for:
– mom's thanksgiving table decor
– the kids putting frosting on the sugar cookies shaped like turkeys that grandma made
– the kids putting ornaments on the Christmas tree she already has up
– sitting down to watch Cheaper By the Dozen 2 with my husband while the kids run wild in the other room and drive Grandma and the uncles crazy
– turkey, mashed potatoes, stuffing … a free meal
– the annual family picture in front of the Christmas tree
– writer nerds sitting around thinking up character names for fantasy novels
– taking a nap on the couch once the turkey coma set in
– waking up to the kids watching the 80's movie Prancer (man, such cheesy acting back then)
– stopping by Jake's parents to visit with the family for a couple hours (a house full of kids = chaos and a lot of noise)
– Jake's sister taking the kids tomorrow so we can take Jake to his meeting with the job placement agency and then go on a date to asee AUSTRALIA (or as Jake says, "I'm going to see a great movie directed by Baz Luhrmann and Kris is going to see Hugh Jackman." hehe!)
– feeling happy and peaceful and thankful to God for everything He has given us and for how He provides for us.
– Happy Thanksgiving indeed!
Here are a couple from our family photos:
I laughed so hard when I saw this and saw Tim standing backwards. My brothers crack me up.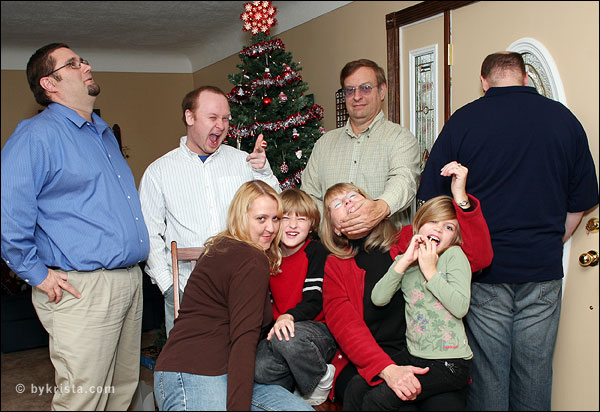 Tried to get Jake to dip me back, but we weren't standing at the right angle and if I had leaned back any further I think I would have fallen backwards and taken him down with me.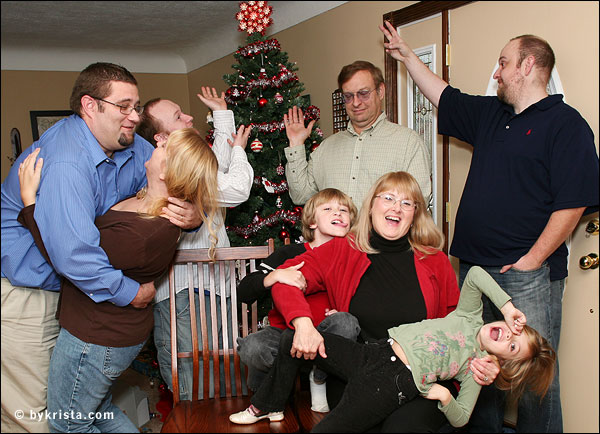 Hope everyone had a wonderful day!