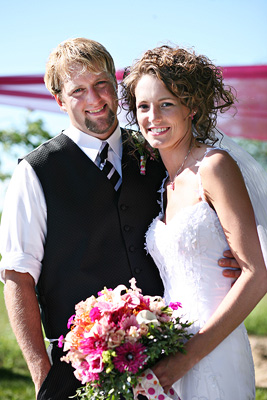 That sounds really weird, but it's true. This year all my summer weddings were in May and June. The rest will come in the fall. Very strange to be done for a while (except for editing), but I'm so excited to have the next couple months off (except for photo sessions) to spend with family and take a few trips with friends. I'm so in need of a break.
This weekend's wedding was so beautiful. I met Janna through Lindsey, a past bride and one of my wonderful assistants. Janna did the flowers for Lindsey's wedding and I was so excited when she wanted me to be her wedding photographer. Janna and her florist friends put together some beautiful details for this wedding. (Kelley, you will LOVE the details — lots of bright pink and orange, your favorite!!)
This was also my last wedding working with Heidi for a while since she will be having a sweet little baby in the fall when my wedding season kicks in again. I'm so excited to meet her little one and take lots of pictures, of course.
We had a fun time. Janna and Dan's families are both so nice and they had a huge bridal party – 9 people on each side along with two flower girls and a ring bearer. They were a very fun group! A great wedding to end my summer wedding season.
Check the photo blog in a few days for some sneak peek pics.