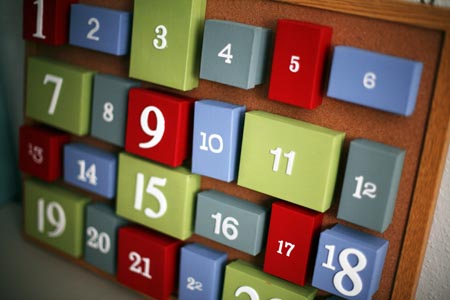 Boxes are loaded and ready for tomorrow morning for Zach to be the first to open box #1. I filled them up with little things like suckers, M&M's, mints, other little candies I found. Then I got a few toys like mini cars for Zach and lip gloss for Chloe, little ornaments for the tree (Transformers and Hello Kitty), some holiday socks, these mini card games (like Old Maid) I found in the party favor aisle at Target. Then I mixed in activities – go see the lights at Meijer Gardens, dinner at McDonald's Playland, have a slumber party by the tree, do Christmas crafts together, go see Christmas lights around town on Christmas eve. The kids are all excited to start opening the boxes.
My mom and I went shopping today. My first Christmas shopping outing of the year. I got a bunch of stuff crossed off the list. A successful day!
Now, I must CONGRATULATE my husband, who met his goal for NaNoWriMo (National Novel Writing Month) of 50,000 words in 30 days. He go to 50,000 earlier today and we popped open a bottle of sparkling white grape juice with the kids and toasted to Daddy's success. It was cute.
So proud of you, Jake! I knew you could do it!
I have pictures to share from my Mom's birthday the other night, but I haven't even loaded them into the computer yet. So that will have to wait for now.
I'm exhausted. Must get sleep soon. Have a wonderful weekend!!!