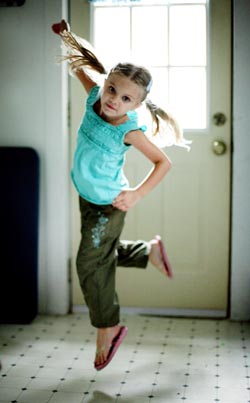 Took this fun picture of Chloe last weekend before we left for Indiana. She kept wanting to show me her new trick, so I had to whip out my camera and capture it. She is such a funny girl and she seems to get cuter as the days go by.
Poor Zachy has been sick with a cold and sore throat almost the whole week. I feel so bad for him. He's been really grumpy and we can tell he's just not himself. We took him to school today to see his classroom and meet his new teacher. I was hoping he'd have more kids in his class from last year, but we didn't see any familiar names except one — Trinity. She's been in his class every year so far.
So he'll have a familiar face on Tuesday, which will be nice. Can't believe he's back to school again in less than a week. On one hand, I'm glad because he likes school and he will be learning lots and playing with his friends. And this has been a long summer of the kids getting on each others nerves and I think they need some time apart. But on the other hand, it means summer is over and my baby is another year older. Time is going too quickly.
Went to Holland to the state park the other night for some engagement pictures. I took Jake and the kids along and they played in the lake and built sand castles while I worked. Holland was so crowded. It was really sticky and humid and there were tons of people there to cool off. There were also tons of photographers there doing senior pictures and engagements and families. It was funny to see. I've never been to a beach where there were that many other photographers working. I guess Holland is the place to be.
One more big event before school starts – the annual trap shoot/family reunion (my Dad's side). That's always fun. Then Labor Day – no big plans! I'll probably just sit and reminisce about how my water broke on Labor Day 2000 and I had Zach the next day.
Can't believe he's turning 7 on Wednesday.
One last picture from last week. Me and my girl.