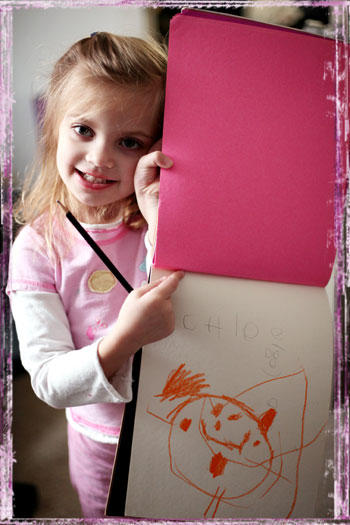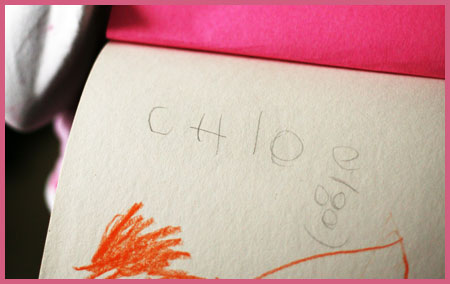 "Mommy, look. I wrote my name." I almost fell off my chair. Zach had been showing her a couple days ago how to write each letter of her name, but I had no idea that she could do it on her own. I was so excited that I whipped my camera out right away and she was proud to show it off for me. I love how she even put a smiley face under it. hehe!
And an update on my "Biggest Loser" progress. I haven't really been weighing myself or anything since the scale here at home isn't the "official" weigh-in scale and I don't know how off it is from that one (we think it's less by 4 lbs). But I weighed myself today and, even if it is off by 4, I have lost at least 8 lbs. I also measured myself. This excites me the most. I've lost 2.5″ off my waist, 3″ off my hips and an inch off my thighs and arms. I'm excited about the actual weight lost, but the measuring makes me happy because I can see the inches disappearing and I can already tell that my clothes aren't as tight as they have been, which is so very encouraging. So, I'm keeping it up. Eating right. Exercising (and I must point out that I haven't done anything much over the past month – a little elliptical trainer, which I can't really do more than 20 minutes on yet, and some exercise videos done maybe 1-2 times a week). The biggest thing for me has been changing the eating habits. We've been eating at home much more and I've stopped drinking pop. And I've been drinking lots of Propel fitness water and Lipton Raspberry Iced Tea to Go. These are the things that are working for me.
Must work on our taxes now. ugh.