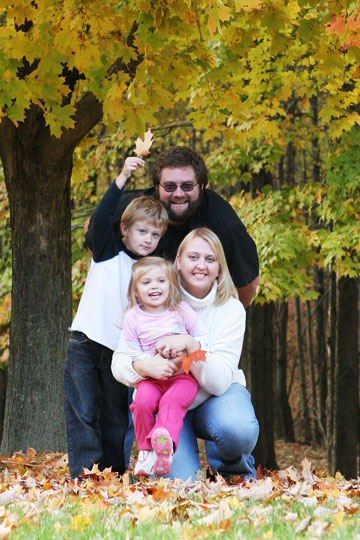 well … uneventful compared to the past 6 months. I am going through a bit of wedding withdrawals, I think. I had a nightmare last night that I was late for a wedding and when I got there I was distracted and couldn't seem to get the shots. Every time I would see something happening, I couldn't lift my camera in time to shoot the moment. It was awful.
Seriously, I do feel like I should be shooting something this weekend. It's been months since I've had more than one weekend off and to know that I have a few months off is a strange feeling.
So, our day yesterday consisted of me getting groceries and Jake cleaning the living room and rearranging the furniture. I went out and bought one of these (on sale and with a rebate – woohoo!) and I wanted to put it in the corner of the living room so I can use while the kids watch TV. It fits great, but, oh my word, it's hard. I did it last night and again this morning and my legs were throbbing after 1 minute.
I got so busy this year that I pretty much let any idea of fitness or eating right fly out the window. I'm determined to get in shape now. I know it will help me feel better about myself and give me tons more energy. I already feel better for making the decision to do it.
Our Sunday started off with me cleaning Zach's eye so he could open it. He's got pink eye again and this time it got all crusty and he couldn't open his eye this morning. He was really brave and didn't freak out about it 'cause I told him before he went to bed that this might happen. Already, the medicine is making it better. I just wish he would stop getting it. His poor eye looks so puffy and red.
But, just as last time, it is accompanied by a cold, which is what the dr. told us before. Poor kid. If his eye isn't cleared up a little more by tomorrow then he will probably have to miss one day of school. I hope he doesn't have to miss. I hate keeping him home when he's perfectly fine other than that puffy eye. But I know how people freak out about pink eye. I wouldn't want another mom to send her child to school if their eye was still all puffy and red and gooey. gross.
We're getting excited to take the kids out on Tuesday eve for Halloween. Zach is dressing like Darth Vader and Chloe will be a fairy princess. Her costume is so cute. It has these pretty wings and a little crown of flowers to wear on her head. She's so excited to play in that costume, but we haven't let her touch it yet. It would be destroyed if we had. She is not gentle with her toys.
This picture of us was taken by Heidi a couple weeks ago. It's not the one I'm using for our Christmas card this year so I thought I'd share.
Hope everyone is having a great weekend!