Another long week. I did manage to squeeze in a few scrapbook pages using Heather's new Boys Will Be Boys kit.
Z is for …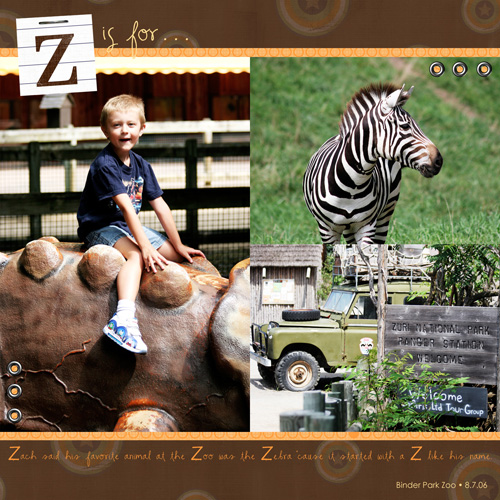 • journaling reads:
Zach said his favorite animal at the Zoo was the Zebra 'cause it started with a Z like his name.
---
Binder Park Zoo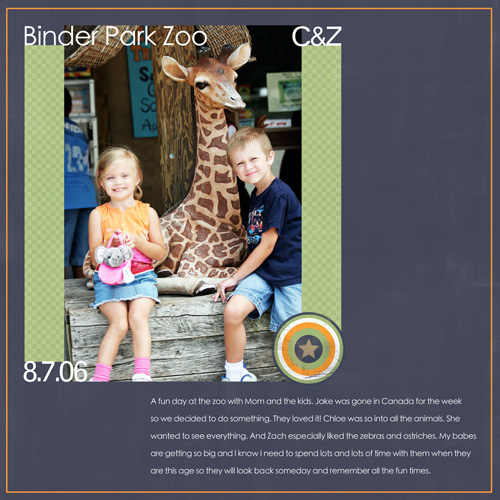 • journaling reads:
A fun day at the zoo with Mom and the kids. Jake was gone in Canada for the week so we decided to do something. They loved it! Chloe was so into all the animals. She wanted to see everything. And Zach especially liked the zebras and ostriches. My babes are getting so big and I know I need to spend lots and lots of time with them when they are this age so they will look back someday and remember all the fun times.
---
SCATTERbrained
• journaling reads:
loopy. loony. forgetful. out there. whatever you want to call it. that's me. today. just about every day lately. i missed a meeting the other day. totally slipped my mind. forgot about letting a friend borrow my camera. disappointed in myself. hate letting people down. letting myself down. gotta get my act together.
Please Lord, clear away the clutter and give me CLARITY
---
Working today. Wedding tomorrow. Then I get a couple weeks off until the next wedding. Time for catching up and taking a little time for myself. And so excited that I was just asked to shoot the wedding of some friends in February at Frederik Meijer Gardens. It's going to be so beautiful.
Hope you all have a relaxing weekend. Enjoy life. Love ya. •K