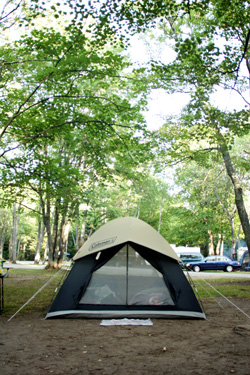 So … since I last wrote, I turned 33. I really don't feel any different, of course. But I like this age. I like my 30's. Jen and I discussed this on our way up north for our camping trip last weekend. We decided to stick with a place we love and head up to the U.P. again this year. So we went back to Tahquamenon Falls and camped instead of getting a hotel (much cheaper and more fun!). Among our many sight seeing adventures, we visited the Cross in the Woods.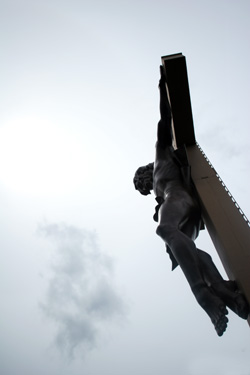 We saw a sign for this last year and when we saw it again, we had to stop! We were actually really moved by it. Standing there at the foot of the cross, looking up at Jesus, his gaze down at us. Jen got quite emotional and said she had never quite put herself in that place before, never thought of what it would have been like to stand in that very spot while Jesus was dying. We kind of went just for fun to see what it was, but we were both really glad we stopped.
Camping was the most fun! We brought along chicken and veggies and cooked our food over the open fire. It was delicious. Jen was the fire queen. She totally got the fire going and kept it going every night. She rocks!
Saturday, we spent the day in Munising checking out the waterfalls and took the sunset cruise to see the Pictured Rocks. Lake Superior is so beautiful – the water is so clear. It's the biggest of the Great Lakes and the cleanest.
On Sunday, we got up and made a fire and had some coffee (me) and tea (her), I played a few choruses on my guitar and we had our own little church service.
We went to the falls after packing up our campsite and relaxed for a while and then headed home.
It was a great birthday weekend!
This week, I feel like such a slacker not posting on my blog. I've been getting caught up on wedding work, emails, etc. I just posted a slideshow on my photo blog for this wonderful couple whose wedding I shot on the 15th. I just have to say that I have the best clients in the whole world. I got a voicemail last night from them. They just had to call me as soon as they saw the slideshow and tell me how much they loved it. I almost started crying they were so sweet. Even though I'm completely exhausted right now and ready for wedding season to be over, I am thankful that I get to meet such awesome people along the way. That's the true blessing.
So … I will TRY to be better about my blog and check in more often. Not promising anything. I've got a wedding this evening – a small intimate gathering – and a big wedding tomorrow, so I will be busy this week.
Have a great weekend, everyone!
Love you all!
some more pics from the weekend:
[ me on the path to Munising Falls ]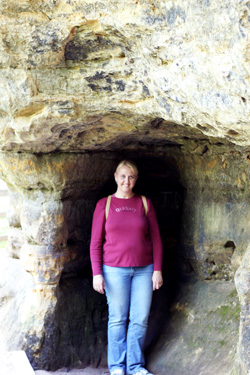 [ lake superior ]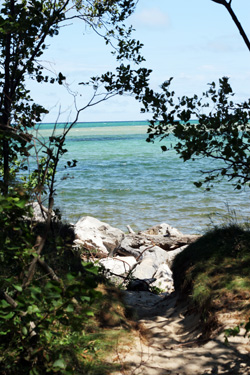 [ sunset at Tahquamenon Falls – so beautiful ]