Made up invitations to a little get-together we're having in a couple weeks for Chloe's 3rd birthday. Can't believe she's almost 3. My almost Valentines baby (she was born on the 11th).
Here is a picture I took of the invite. I didn't have a good place to set it that didn't include my messy desk in the pictures so I just laid it on a piece of the paper I used for the thin horizontal strip on the card.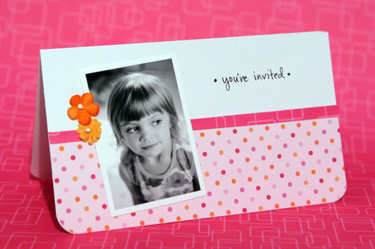 It was really nice to create something. I had a meeting this morning with a couple for an October wedding (they were such cool people to talk to – hope they hire me!) and on my way home I stopped at Remember When in Middleville. Such a cute store and the owner is always in there and is just so friendly. Love going there! Picked up some Wild Asparagus paper. I love that stuff! I bought some a while ago and just had to pick up some more. And then I bought the papers for Chloe's invites and the little paper posies. Had so much fun designing and putting these together. Makes me itch to scrapbook. I may need to take a "vacation" or something and just go somewhere with all my stuff and a bunch of pictures and just scrapbook. Or maybe I should send Jake and kids away for a few days since all my stuff is here. That would be more convenient.
Also wanted to ask for prayer for my sick boy, Zach. He had to stay home from school on Friday with a bad cough and each night he has had really high fevers that make me very nervous. Once we give him medicine, the fever usually breaks within a 1/2 hour. It's just so terrible to see him so miserable with his nasty runny nose and that terrible cough that makes him gag and upsets his tummy. So, please say a little prayer for health for Zach. Thanks so much!