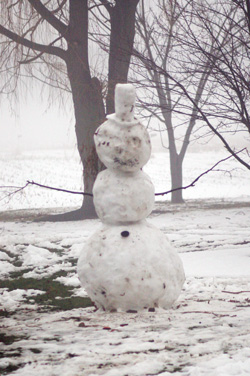 I'm here. It's just taken me a few days to get back to normal and I still can't quite seem to get organized after the long Christmas weekend. It might be the fact that Jake is home from work all week. It's really nice, but strange and definitely not the norm. Every day feels like the weekend and my days of the week are all messed up since we were in Ohio from Saturday – Monday. I kept thinking Monday was Sunday so I'm all screwed up.
Anyway, we had a really nice Christmas. We got up on Saturday morning and Santa had miraculously arrived a day early.
The kids got all their gifts – Chloe's favorites were her Rescue Pet and the Disney Princess Dress Up clothes (she's all girl!) and Zach's were his little digital camera and the Spiderman LeapPad (anything Spiderman is the perfect gift). We packed up the car and brought along some toys and a couple Christmas movies and traveled to Ohio for the weekend. We were greeted at my grandparents farm to this big guy. My cousins had been outside all morning building a huge snowman – like 10 feet tall. Grandpa said they were using boards to roll the huge snowballs up for the body and the head. Hilarious! Wish we'd been there to get some pictures of that. Those suckers had to be heavy.
We had a nice dinner together and opened gifts. The kids had a blast playing and some of us sat around playing guitar. Jenna (my cousin) got a guitar and she was playing mine a bit. She's pretty good. Paul was teaching Tim scales and then Tim taught me. My fingers are actually getting used to the strings now. They still feel funny and numb but they're getting callouses so I'm finding that I can play for longer periods of time now. I even picked out a little Silent Night with chords and everything.
Later in the evening, everyone had to head home except for us, my parents and Uncle David and "Aunt" Suzanne. I say "Aunt" because she is technically my aunt since she married my uncle, but it's just weird to call her that because she's only a year older than me.
It was nice to hang out.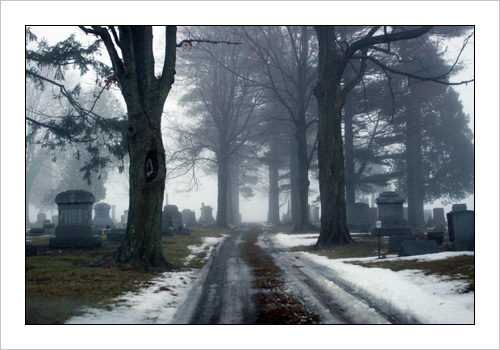 Sunday was Christmas day and it was strange to have absolutely no plans whatsoever. We basically lounged around my grandparents house all day – keeping the kids occupied, playing my guitar, etc. In the afternoon, I drove to Upper Sandusky to fill up the gas tank and I stopped at the cemetery where my grandparents and uncle are buried. I don't know what the weather was like here, but it was REALLY foggy in Ohio. So foggy that you couldn't see very far in front of the car. As I drove through the cemetery, the light was shining through the trees and it was all foggy. It should have felt eerie because it looked like a scene from a creepy movie, but it felt very peaceful. So, I went back to the farm and got Jake and the kids and my camera and headed back to the cemetery to snap a few pictures. A little morbid, but I thought it was really beautiful. So many lives, so many stories there. I'm glad I know a few of them.
We headed from there into Upper again to see this huge Festival of Lights display that they had going. It was really beautiful. So much work went into it. My favorite part was this picnic pavilion that they made look like a carousel. So creative. I was really impressed with that.
Zach loved the lights and made Jake put the window down so he could take pictures with his little digital camera. He doesn't know how to use it yet and ended up deleting all the pictures he took – oops! It was a fun time with the kids.
That evening, I started feeling sick to my stomach. I took it easy and tried to rest, but ended up sitting with the family to watch a Christmas TV movie. Can't remember what it was called, but it starred Valerie Bertinelli. It was a cute, cheesy one. Nice to sit around with everyone and enjoy it.
Monday, we had Christmas on the other side of the family at my Aunt and Uncle's. It was nice to see everyone and catch up a bit. Not everyone could be there this year, which was a little sad. But it was good that the rest of us could be together. The guys talked hunting and farming and played some darts. The girls played with the kids and talked about our kids' education and reminisced a bit about childhood Christmases as Grandpa and Grandma's house. I miss them. Before we headed home, we all got together and I took our family picture.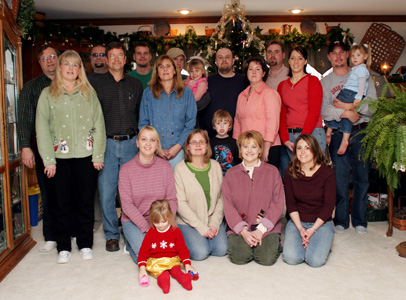 It was a nice weekend, but we are really happy to be home. Lots of cleaning and organizing and working on the office. Jake got his computer and desk out of here and made a space in our bedroom for himself and I get the whole office to myself. I'm happy to have enough room to organize my stuff now. Very exciting. Pictures to come.
Hope everyone had a wonderful Christmas! What do you have planned for New Years Eve?