Since I posted that picture the other day of us on our 10th anniversary trip, I thought it would be fun to put a picture up here from our wedding day. Yikes! Here it is …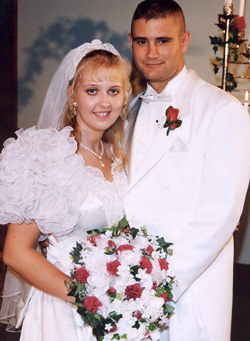 Taken on our wedding day – August 26, 1995. Seems like so very long ago. Jake looks TOTALLY different. I think I look about the same as I always have – just about 50 lbs. heavier and my hair is lighter.
Look at my dress. Oh my Lord … of course those puffed sleeves had to be inspired by Anne of Green Gables. Huge. That's all I have to say about that.
We were happy, though. It was a strange time. We went to Disney on our honeymoon and then to Fort Campbell, where Jake was stationed. We lived there for a few months – in a hotel since we knew it would be a short amount of time before he was restationed to Baumholder, Germany. Very weird to not really have a place of our own. But we wanted to be together and it was a good thing we did that because in December when he arrived in Germany we learned that he would have to go to Bosnia for a year. So those first three months were a blessing since we spent almost the entire first year of our marriage apart from each other. It sucked, but we adjusted. We were so happy when he was finally done with his time in the service in '98. Bought a house, settled in, had a couple kids … these ten years have been full of many changes and adjustments. I know there will be many more ahead. I'm just so thankful for the husband that God has blessed me with. When I think about the path I was on before Jake … things could have turned out so differently. I'm so thankful that God kept me from being heartbroken for the rest of my life and gave me someone who truly understands me and would do anything for me … and has!
Looking forward to the next 10 years and beyond!