Thank you all of you who wrote and encouraged me. It was good to have a few days to just let the tears come out. After my 2am prayer session the other night, I feel lighter. I was telling Jake that just last night. I feel like a little more of my past baggage has been lifted. Little by little it seems to get better.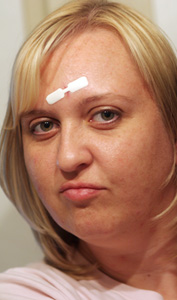 We went to Chuck E Cheese last night for my brother Tim's 29th birthday! Yes, that's right … 29. Now that we have kids we don't look like such geeks going there. Our kids just love it. Had a nice time and then while trying to get the kids in the car disaster happened. Chloe spilled a little tiny bit of pop in my new car and I ran around to open the front passenger door and try to find napkins to soak it up. I made way more out of it than it really was. I should have just stayed on my side of the car and let Jake handle it but the thought of sticky soda ruining my clean floormats was too much for me. So as I pulled the passenger door of the car open my body was still moving toward it and I slammed the edge of the door straight into my forehead. I immediately bent over the passenger side seat holding my head in pain. I cried for a couple seconds and then found a napkin for my bleeding head. Jake seemed to be way more panicked than I was. We got in the car and I put pressure on it. I was sure I would need stitches because it was a pretty deep gash. But as we got closer to home I could see that it was staying closed on its own and had stopped bleeding. So Jake got some butterfly bandages from Walmart and now I have one of those in the middle of my forehead. Looks attractive!
At least I didn't need stitches. I have a KILLER headache now. All my own stupid fault. It could have been much worse, though, so I'm not complaining. So … that was our big drama of the evening.
Tonight should be a little more uneventful. At least I hope so. We are going to dinner with our good friends, Karleen and Johnny. So looking forward to hanging out and enjoying some Outback Steakhouse and chatting. Adult conversation is ALWAYS good.