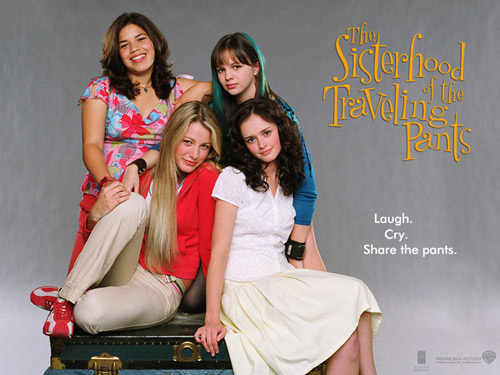 While browsing through my old posts, I came across one written on June 3, 2005, the night I went to see The Sisterhood of the Traveling Pants movie. I loved that book series and I remember loving the movie. One other thing I remember about that night was going directly to Best Buy afterwards to purchase the soundtrack because of the song "Unwritten" by Natasha Bedingfield and driving home with windows down and moon roof open with that song turned up so loud. (OK, I'm playing it right now while I write this post and it's still awesome!) I love how a blog post can remind me of those feelings.
Here's what I had to say that night:


"I like to read, but I LOVE when books are adapted into movies. I'm a visual person, a huge movie lover. So to see a story adapted for the screen and done well really thrills me. This was adapted really well. I think there were a few things here and there that they changed for movie purposes, but for the most part it was true to the book.

I think the character that I relate the most to is Lena, the quiet one. Afraid to really let go, trying to figure out who she really is, not the most outspoken of the group. That's totally me. A little reserved, doing what I think others want me to do, wishing that I had the strength to stand up for myself more, a little shallow with my feelings, mostly to protect myself from being hurt, but wishing I felt more deeply sometimes.

These kinds of stories really make me think and they get my creative juices flowing. I began writing a book in 1997 based loosely on my time at the church camp I used to attend for a week every summer in high school. I finally finished the first draft last year, but I've done nothing more with it. I feel like pulling it out and working on it now. It's so fun to read through it and see these characters that I've created with little bits of myself and my friends in them and the adventures that they go through and the lessons learned during the week at camp. I'm proud of my book. It needs a lot of work and who knows if it's something that is good enough to be published. It's the "Lena" in me that is afraid to put it out there and see what might happen with it. I need to let it go and see what God can do with it."
Reading this made me smile so big. I had not forgotten about my camp book, but I had forgotten how even ten years ago, I was thinking about publishing, wondering if I should try, afraid to put myself out there. That book, the sweet little camp story, will find its way into book form. Not as it is now, though, because I was being honest when I said it needed a lot of work, but it's already being re-imagined and rewritten in my brain. It even has a title already, which I'm pretty excited about. But, I'll try not to get too far ahead of myself.
OK … on to today's giveaway.
GIVEAWAY INFO: There are four ways to enter through the giveaway box below and each will get you five entries in the drawing.
• The first option is the only one you HAVE to do in order to be entered. I'll ask one question in every day's giveaway. You just have to enter your name and email address, give a brief response to the question, and you're in the drawing.
If you want more chances to win, you can …
• Join my mailing list (if you already have, enter your email address so I can verify)
• Tweet about the giveaway and copy/paste the link from Twitter
• SHARE about the giveaway and the BLOG-IVERSARY on your own blog, Facebook*, Pinterest, etc. and link to that as well.
All giveaways will end on my actual BLOG-IVERSARY, next Thursday, February 26th, so the giveaways will all be OPEN until then.
The winners will be announced in a blog post on FRIDAY, FEBRUARY 27th!
* Note: If you share on a private Facebook account and we aren't "friends", make sure you change the audience of that one post to "public" so I can see it.
TODAY'S GIVEAWAY
I'm getting so excited for the release of this book! It's totally my heart and so much of myself is on these pages. This giveaway is for an Advanced Reader Copy of Goodbye, Magnolia. The winner will receive a copy of the manuscript in paperback book form in its still-being-edited, not quite polished to perfection, almost final state. It will be about a month or so before the ARC copy is ready.
If this is the first you're hearing about my new book, here's a little bit of the synopsis for you:
Wedding photography is Maggie's passion. The art of capturing a moment forever in time is magical to her, and she's worked hard to become the best of the best. Week after week, she works with couples as they plan their happily ever afters, but she hasn't been so lucky in love. Behind the camera, it's easy to hide from the pain and rejection of her past. The life she has made for herself is safe and predictable, until the owner of a rival photography studio sets up shop in her small town and comes to her with an unexpected proposal. Suddenly, everything she has worked so hard to build is threatened and her simple, controlled life is thrown into chaos."
Eeeeeek! I'm giddy.
Enter below. Tell a friend!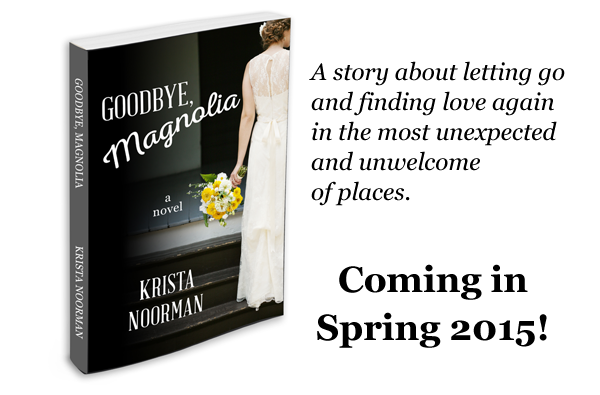 CLICK HERE to see all the GIVEAWAYS on one page!
SEE YA BACK HERE TOMORROW!