Remember when I used to blog? Like all the time? Every week? Sometimes daily? I really did. I love blogging, always have, but I think now that I'm writing full time, my brain is more focused on my fictional stories than the stories of my everyday life. I started this blog to share pictures and stories about the kids with family and friends. It's become much more over the years, now a place for me to share about the books I write. But I still want it to be a space where I can share about our life, where you can get to know me as a person, not just a name on the cover of some books.
• A TALE OF TWO JOB INTERVIEWS
When Jake lost his job in January 2016, we just knew that God had a plan in all of that. And I just have to share this story of his two VERY different job offers. Jake interviewed for a job in a town two hours from our home. Not ideal, but we were willing to relocate if it was the job God wanted him to have. All went well there. It wasn't exactly what he had been doing before (running the eBook department), but it was still in his skill set in publishing. This company worked with many different magazine publishers and the guy who interviewed Jake told him that they sometimes work with Playboy. A job offer came in from them for 20% more than he was making at his previous job. Tempting, right?
He had another interview set up for the following week with a Christian publishing company much closer to home. This job was pretty much exactly what he had been doing at his old job – he would be in charge of the eBook department and more. He got an offer, which was much less than the "Playboy" job, as I teasingly call it, only about 5% more than he was making before.
When Jake and I were discussing everything, I told him it was like an angel on one shoulder and a devil on the other. One company that publishes wonderful Christian content and another that … doesn't. The decision was a no-brainer really. We got to stay put, he got a job he absolutely LOVES – a job that clearly God had in the works for him all along – and he would not be part of a company that helps publish photos of naked women.
What I loved about the whole thing was just how clear cut it was for us. It was just another reason that we knew God had it all planned out. With the two offers staring us in the face, the choice was so obvious. Wouldn't it be nice if all decisions in life could be that easy?


Last fall, Jake traveled to New Hampshire for a work conference, and I was able to join him and visit New England for the first time. It was such a blessing. I even took a little day trip down to Concord, Massachusetts and visited Orchard House, the Alcott's home, where Louisa wrote Little Women. That was such an incredible experience for me. To walk through the rooms where she and her family walked and talked and laughed. To see the little table in her bedroom where she wrote Little Women and glance out the window she must have looked out so many times while writing. To hear the stories of so many of the little details of the house and learn more about their family. The entire trip was worth it just for that. But I also got to spend some time with my hubby and even take a little drive across the bridge into Maine one evening. It was a wonderful trip and all because of this new job of his.
• BACK AT GYMNASTICS
If you've been following my blog for a while, then you probably saw my post last year at the end of gymnastics season when we thought Chloe was done with it for good. Despite working really hard all year, she only medaled twice the entire season, which I think was a big disappointment for her. It just wasn't fun for her anymore, so she said goodbye to competitive gymnastics.



Fast forward six months and she was really starting to miss it, but she did not want to go back to her old gym. She wanted to try someplace new. One of Chloe's former teammates switched to Grand Rapids Gymnastics (GRG) a couple seasons ago and they had great things to say about it. So when Chloe started mentioning gymnastics again, I decided to give GRG a call. I spoke to Coach Emily, who invited Chloe to come try a practice with the team and see if she liked it. Pretty much from the moment we walked in the door, we felt welcomed and Chloe felt like this was the place for her. At the end of that first practice, Emily told me that Chloe fit right in with the other girls. No surprise there. She's not shy and tends to make friends very quickly.
It took a bit for her to get back some of the strength she lost during those six months off and she had to basically relearn a lot of things that she was never taught properly at the old gym, but she has been improving on every event all season long. And out of 7 meets, she medaled at all but one, earning 11 medals.
Switching gyms was the right decision. Absolutely.


• 14
Our girl also turned 14 in February. Hard to believe. We spent the weekend at Heather and Jeff's and brought along her BFF Jenna. Heather took us all ice skating for Chloe's birthday. It was Chloe's first time and she pretty much clung to Jenna or the wall the entire time, but we had a blast.
On that Sunday, we had a nice lunch and birthday celebration at my parents' house. I just love Chloe and Jenna's friendship. They are truly like bickering sisters sometimes, but they love being friends. And after all of last year's middle school drama, it has been wonderful for her to find some new friends this year that get her and accept her and are drama-free for the most part.



This sequence of pictures makes me smile.
• COLLEGE PLANS
Zach will soon finish his junior year of high school, so we are all about discussing college lately. He loves architecture, so we're looking at schools in Michigan that have programs specific to that. Looking back, he has always had a love of building and designing – from Legos to Minecraft to other computer games he's played over the years.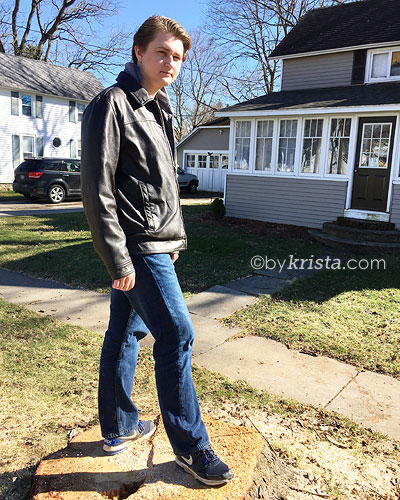 This year, he took an architecture class and has really enjoyed that. Next year, I think he's going to take an engineering class, so we'll see if he changes his mind and wants to study that instead. Maybe he'll follow in his grandpa's footsteps (my dad is an industrial engineer).
• MY DAD
Speaking of my dad … at the end of last year, he fell off his tractor and broke a few ribs. He was in a lot of pain and had some swelling in his abdomen that was not going down. So the doctor called for a CT, which revealed that he has cirrhosis of the liver due to fatty liver disease, which he was diagnosed with a couple years ago. Looking back, mom said he was starting to show signs of it for a while now, but they didn't know that's what it was. We think the fall just made things worse. So in February, we traveled back and forth to the University of Michigan Liver Center for tests—-lots of tests—-and he is now on the list for a transplant.



I've learned a lot more about the liver and transplants over the past month than I ever thought I would. It could be a while before he gets his new liver. His place on the list is determined by blood tests taken every few weeks. On one hand, we want him to be able to go on with his daily life as normally as possible. On the other, we want him to get a new liver soon, which means his health would have to deteriorate so he can move up the list. I know God has a plan and it will all work out in His perfect timing. In the meantime, our family would appreciate prayers for us, for the doctors, specialists, surgeons, and the family of the person whose liver my dad will one day get.
• GETTING HEALTHY
For a really long time now, I've led a mostly sedentary life. I've sat for hours upon hours writing and editing my books, staring at my computer, not really getting up and moving as much as I should. And I have felt it in my body. I have been sluggish and tired, no energy to do anything else, moody. So at the end of 2016, Jake told me I should join the gym with him (he has been a member for a while). I said no at first. I didn't want to spend the extra money each month. It was too far to drive. I made excuses. But then I thought that the small amount of money I would spend each month is going toward helping me to be healthier and happier and more productive in both work and home life. So I did it. I signed up at Planet Fitness.



Starting the first week of January, we have been at the gym at least once a week – most weeks 3 times – working off the fat, getting stronger, losing inches and pounds. I am down 14 lbs. now and have lost a combined 8 inches off my waist, hips, and thighs. It's nice to put on my jeans and not have to squeeze into them anymore. And the amount of energy I have is so much more than I've had for many years now.
We're also preparing weekly meals ahead of time. Chicken and veggies usually. We separate them into bowls so they are easy for Jake to grab for work or me for lunch at home. Just pop them in the microwave and voila. Easy, healthy meal.
This all seems even more timely now that we've learned of the condition of my dad's liver. I was already on a path to a healthier life, and now I understand how very important that is.
• WRITING
Yes, I am still writing. Currently, I'm working on two very different projects. One is the young adult dystopian novel I wrote a couple years ago during NaNoWriMo. The other is still mostly in research phase, but I did write the first lines of chapter one recently, which was awesome! This one will be a historical romance. I'm excited to share more about both when they get closer to completion. The YA book will most likely release first, hopefully later this year, but I don't have a set date for publication yet. There's still a lot to be done on this one as I edit through it. The whole point of NaNoWriMo is to get the novel out of your head and onto the page, so it's very rough and needs a lot of filling in at this point.



For now, the pictures above give you an idea just how different the settings are for these stories.
Thanks for sticking by me through this long post. Hope the rest of your week is wonderful. This will be our first weekend in a month without a gymnastics meet. It will be strange not traveling somewhere, but also kind of nice.
Blessings,