Driving down a country road one fall evening after an engagement photography session in South Haven, this song – Turn Up The Music by Point of Grace (above) – was playing in my car. I can't remember if it was on the radio or if I had the CD at the time, but it brought tears to my eyes and it filled me with such a peaceful and hopeful feeling.
I remember that feeling very vividly. It was at a time when Jake (my husband) had lost his job because the company he worked for closed its doors, and my little photography business was keeping us afloat. Barely. It was very stressful and I felt anything but peaceful at the time.
"Wake up to the sunlight with your windows open
Don't hold in your anger or leave things unspoken
Wear your red dress, use your good dishes,
Make a big mess, and make lots of wishes …"
I longed for the peaceful, carefree feeling this song brought out in me. To focus on the little things, my children, my husband, the beauty of nature, letting go, dreaming, taking chances. No regrets! I wanted to feel like that – happy and hopeful.
"Turn up the music, Turn it up loud
Take a few chances, Let it all out
'Cause you won't regret it
Lookin' back from where you have been
Cause it's not who you knew
And it's not what you did
It's how you live."
I wanted a sense of security again, and I prayed for God's help. And He provided! Time and again. (HERE is an awesome example of that!)
And here was this song, encouraging me and calming me. It was just one of those moments that has stuck with me. I posted the above video back in September of 2007 with just a brief comment like "I'm loving this song right now." I probably didn't say more because of the stressful emotions I was dealing with, but I'm glad I threw it up there that day because it was there for me to find again, to remember that things did get better. The job situation worked out. God took care of us.
And I've had many days, enjoying the sun on my face, thanking the Lord for the life He's given me, letting myself be truly happy where I'm at, taking chances, and feeling so hopeful for the future.
"Wherever you are and wherever you've been
Now is the time to begin …"
"Make peace with God and make peace with yourself
'Cause in the end there's nobody else."
I hope you'll give the song a listen.

Oh, and here are a few pictures from the engagement session that night.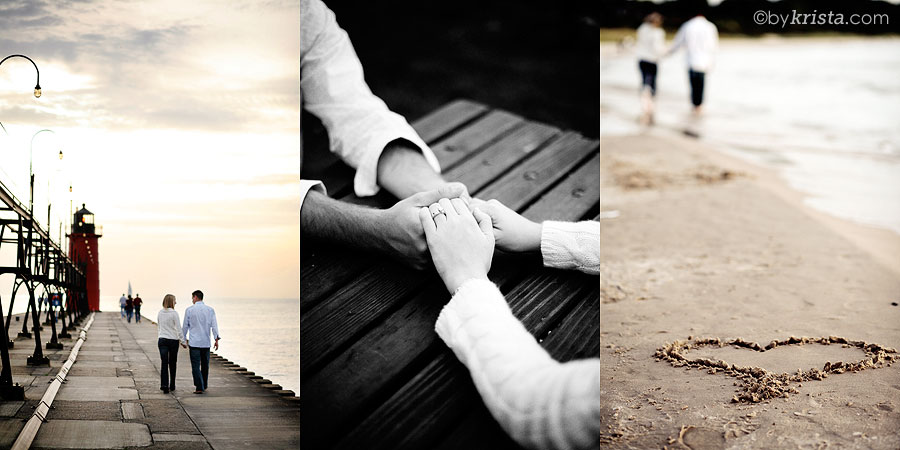 And if you want more, here's their engagement post over on my biz blog, which I no longer update, but it remains online for all the lovely people I worked with.
On to today's giveaway!
GIVEAWAY INFO: There are four ways to enter through the giveaway box below and each will get you five entries in the drawing.
• The first option is the only one you HAVE to do in order to be entered. I'll ask one question in every day's giveaway. You just have to enter your name and email address, give a brief response to the question, and you're in the drawing.
If you want more chances to win, you can …
• Join my mailing list (if you already have, enter your email address so I can verify)
• Tweet about the giveaway and copy/paste the link from Twitter
• SHARE about the giveaway and the BLOG-IVERSARY on your own blog, Facebook*, Pinterest, etc. and link to that as well.
All giveaways will end on my actual BLOG-IVERSARY, next Thursday, February 26th, so the giveaways will all be OPEN until then.
The winners will be announced in a blog post on FRIDAY, FEBRUARY 27th!
* Note: If you share on a private Facebook account and we aren't "friends", make sure you change the audience of that one post to "public" so I can see it.
TODAY'S GIVEAWAY
Last fall, I whipped up these little pocket calendars to match the ING Journals. I am using one every day to keep track of all our stuff. Here's your chance to win one in the color of your choice. It's a 2-year calendar with simple, blank calendar pages. No holidays or cycles of the moon or anything like that on any of the pages since I knew I would be writing all over it with appointments and gymnastics practices and such and I wanted every millimeter of space to do that.
They are about 4″x7″ in size.
Enter below. Tell a friend!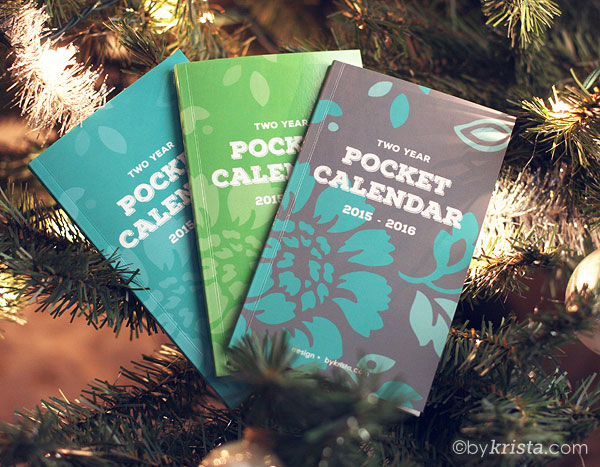 CLICK HERE to see all the GIVEAWAYS on one page!
TGIF! Hope you've enjoyed looking back with me this week. The fun's not over yet! SEE YA' BACK HERE ON MONDAY!