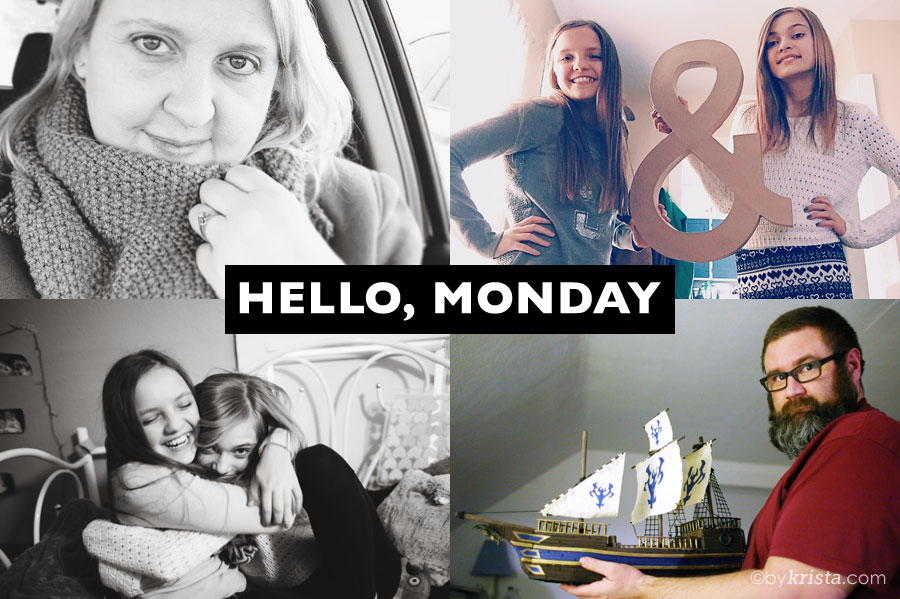 Good morning! I hope you had a great weekend. Monday morning posts around here are usually lists. A couple years ago, I started posting them regularly and called them "Monday's List" until I changed it recently to "Hello, Monday". It's basically a breakdown of what we did over the weekend. I like lists. I like bullet points. It's how I usually lay out these posts. Today, I thought I'd do a random bullet point list of the kinds of things I've shared on Monday's posts over the past couple years.
• It's a Monday. I can tell. 5.6.13
• Jake went to hang out with his nerd friends (hehe! Love you, honey!) on Saturday. 6.24.13
• We watched Nik Wallenda walk the wire across the Grand Canyon with no harness on the Discovery Channel. Oh my goodness. I was so nervous, especially since it was live. 6.24.13
• At the farm, I got stung on the forehead by a bee. 7.1.13
• Chloe taught me and Tim "The Cup Song" from Pitch Perfect. That was fun. And loud when we all did it at the same time. 7.22.13
• Went to our first drive-in movie theater. We really enjoyed it and even saw a shooting star! 9.9.13
• Zach had a friend over after school on Friday. I got a taste of what it would be like to have two teenage boys. 9.23.13
• Had more than one splurge meal this weekend. Back to healthy eating today. 10.7.13
• We are home from Florida and already wishing we were back beside the pool in the warm sun. Everything is covered in inches upon inches of snow that fell while we were away. 12.16.13



• Finished the final edit (I hope!) on my book. I'm so excited about this. I want you guys to read it and hope that will be a reality very soon. 2.24.14
• Spent several hours scanning more of Grandma's negatives. Every time I scan, I find new moments to cherish. 3.24.14
• The message at church on Sunday was so good – all about overcoming your past. A good message for anyone to hear. It doesn't matter what your past looks like. God will forgive. It may not be easy to let go of the things you can't change, the things you wish you could take back, but God promises hope and a bright future. Just hold on. 5.5.14
• The thunder is booming outside and heavy rain is pelting the roof, but I am remembering the warm sun and lovely breezes at Mom + Dad O's on the east side of the state. 5.12.14
• This weekend was ALL about the book launch. It was kind of a quiet moment, actually. Alone in my office, no big fanfare or anything. I hit the "approve" button and, soon after, it was out there for the world to see. 5.19.14



• Amidst the weekend fun, the family time, the bbq'ing, and the extra day off, I'm remembering the reason we get to enjoy such things, the reason we have the freedoms we have in this country. It's all because of the men and women, who have lost their lives protecting those freedoms. And I am so grateful. 5.26.14
• Mom and I went to Sam's Club to pick up some glorious coconut oil. Do you know how many uses there are for that stuff? We were introduced to it by Marsha when we were on vacation. Had to go get us some. 6.23.14
• Ever have one of those nights where you spend most of it staring up at the ceiling, unable to drift off to sleep, your mind whirling with things you have to do, need to do, want to do? Yeah, that was me on Sunday night, which is probably why I did not feel very well yesterday. 7.1.14
• I am very heartbroken to hear of Robin Williams passing. He was so beloved by so many, us included. 8.12.14
• My weekend was spent with Michael, Jim, Pam, Dwight and the rest of the gang on "The Office". 8.18.14
• Welcome to the first full week of November! I was awakened to the sound of a Christmas song playing on the radio on my alarm clock. What? 11.3.14
• The highlight of Chloe's day was getting to meet 2004 Olympic Gold Medalist, Carly Patterson. She was star struck. It was so cute to watch and Carly was as nice as could be. 12.8.14



And TODAY'S LIST …
• The kids had SNOW DAY #9. Really, it was "Extreme Cold" day since the wind chills were like -30 F. We were happy to have a long weekend.
• I worked like a mad woman on my book and made it through the big edit. Editing can be tedious, but I'm loving every minute of it and I know it will be so worth it when I've got the finished product in hand and available for all of you to read.
• All this time I'm spending at the computer is making my eyes/head hurt. Guess it's time for an eye exam.
• We had an extra daughter around here since Chloe had her BFF over for a couple days. It's nice having another girl in the house and listening to them giggle and talk and sing. We ate too much pizza and junk food, watched lots of tv and movies, took the girls to open gym to flip around for a while on Saturday, and took her home after church on Sunday.
• Jake and Zach had a guys night with some of Jake's friends, hanging out, playing a nerdy D&D game.
• Jake finished creation of a ship almost completely out of foam core board. He made the entire thing from scratch, did all the painting and everything. It's very impressive! (SEE HEADER PICTURE at the TOP of this post!)
And … on to today's giveaway!
GIVEAWAY INFO: There are four ways to enter through the giveaway box below and each will get you five entries in the drawing.
• The first option is the only one you HAVE to do in order to be entered. I'll ask one question in every day's giveaway. You just have to enter your name and email address, give a brief response to the question, and you're in the drawing.
If you want more chances to win, you can …
• Join my mailing list (if you already have, enter your email address so I can verify)
• Tweet about the giveaway and copy/paste the link from Twitter
• SHARE about the giveaway and the BLOG-IVERSARY on your own blog, Facebook*, Pinterest, etc. and link to that as well.
All giveaways will end on my actual BLOG-IVERSARY, Thursday, February 26th, so the giveaways will all be OPEN until then.
The winners will be announced in a blog post on FRIDAY, FEBRUARY 27th!
* Note: If you share on a private Facebook account and we aren't "friends", make sure you change the audience of that one post to "public" so I can see it.
TODAY'S GIVEAWAY
Last month on Instagram, I shared this b&w striped graphic that I created using a Helen Keller quote I'd seen one day. I liked it so much that I decided to make it into a notebook that will soon find its way to my Etsy shop. It's about 6×8 in size and has little dotted line pages inside.
Enter below. Tell a friend!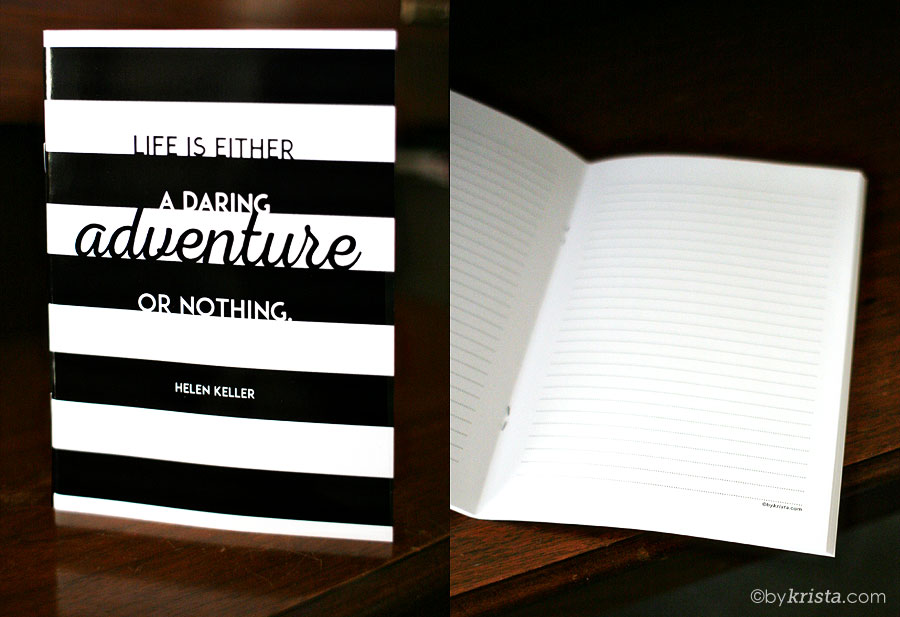 CLICK HERE to see all the GIVEAWAYS on one page! Make sure you enter them ALL!
Happy Monday! See ya back here TOMORROW!