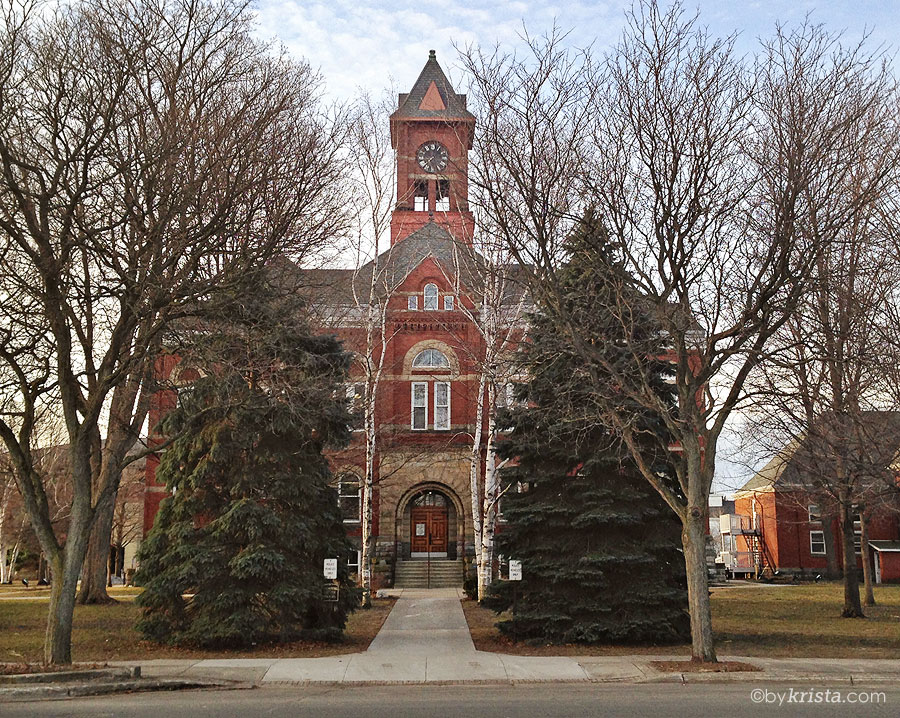 Took this photo today during a walk with my mom. There's no more snow on the courthouse lawn! I can't even begin to tell you how happy it makes me to see grass again. The morning temps are still in the 20's and 30's, but Mom and I are getting outside. It feels great to move after being stuck inside all winter. I'm not one who loves to go to the gym. I'd much rather walk or run in the great outdoors. Sadly, winter ends up being pretty light on healthy activities for me. But I'm very happy to be out walking around our little town again. Even just a few walks this week have done a world of difference. I can already feel my legs getting stronger again.
Jake had mentioned us doing the River Bank Run 10K this year. But then he had some health issues come up over the past couple months and that idea was kind of pushed to the back burner. I didn't forget about it. In fact, I have the training run schedule up on the bulletin board. But I think I've pretty much decided not to worry about it this year. I'm going to run, but the desire to run a 10K isn't there right now. I'd love to run it next year, though. I might try our town's Summerfest 5K this year. I ran that once before, but didn't actually run the entire time. Had to walk several times. I would love to be able to run the entire thing. I think that will be my goal before considering the 10K.
Now that Spring has arrived, I'm in the mood for some good healthy eating. We've been eating out too much in recent weeks. It's all winter's fault.
My Nutribullet needs to get some more use with lots of green smoothies. And the grill needs to be fired up for some chicken and salmon and veggies. Favorite thing cooked on the grill or over a campfire for that matter … VEGGIE PACKS! We make them all the time. Here's how:
VEGGIE PACKS



– Slice up potatoes, carrots, broccoli, cauliflower, whatever kinds of veggies you like. Cut them into small chunks or cubes so they will cook faster.
– Tear off two large pieces of heavy duty tin foil. Enough to fill with 2-3 cups worth of veggies. Don't make the pack too large. The veggies don't always cook evenly. Better to do a couple medium size packs than a jumbo one.
– Arrange the veggies in the center of the tin foil and fold the edges up a little, so when you pour the oil on them it doesn't run off the edge.
– Pour some olive oil over them. We never measure it out. Just enough so it keeps the veggies from sticking to the tin foil.
– Sprinkle with salt, pepper, other seasonings you like.
– Lay the second piece of tin foil over the top and roll the edges together to make a little packet. Make sure all the edges are sealed up so it doesn't leak out into the grill and so all the steam stays inside to cook the veggies.
– I would say cook them for about 20-30 minutes, but that depends on the heat of the grill and how many veggies you put in. Probably less cook time for less veggies. Common sense. We usually open it up and peek to see if it's done and just put it back if it needs more time.
– Carefully open the packet when they're done so you don't burn yourself on the steam. Pour into a bowl or eat 'em right out of the tin foil. We do that when camping!
– Voila! A healthy side dish and it's SO delicious!
Something we tried last summer was sweet potatoes with COCONUT OIL instead of the olive oil. That was SOOOO GOOD!


My mouth is watering now!