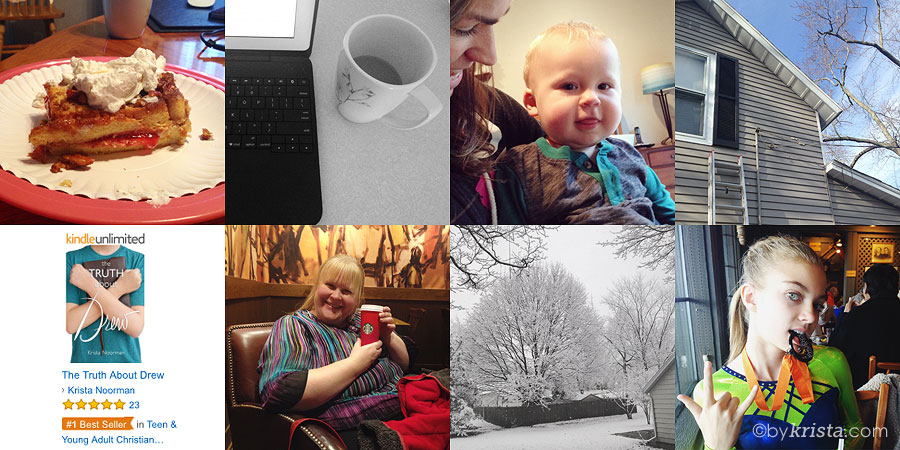 • Had a lovely visit at Mom and Dad O's on the east side of the state a couple weekends ago. Lots of yummy food and I even spent some time in the mornings working on my NaNoWriMo novel. Morning writing is so unlike me (except for blog posts). I've always been an evening writer, but I made myself do it so I could keep up with my word count and the ideas flowed even though I'm so not a morning person.
• It was sort of Friend Week for me last week. I got to visit Heidi and help her design her annual Christmas card. It's our annual tradition now for me to take their family picture and help design the card. Always a fun time chatting and picking photos and laughing at all the ones where they're making funny faces or their eyes are closed. I also had dinner with my friend, Jen, and lots of catching up time over coffee (tea for her) at Starbucks afterward. Time with friends always makes it a good week.
• The painting is done. For this year anyway. I finished all but a couple small sections on the way back of the house that need to be reached by climbing on the roof. They aren't really visible from the ground anyway, so they will be finished in the spring. So our house is all one color finally, and we finished just in time …
• It's our first Monday with snow. We had the first big snowfall over the weekend. Not sure how much snow there was. At least 6-8 inches piled on top of my car.
• Chloe's first gymnastics meet of the season was early Sunday morning. We drove through mostly clear roads to get there and had a nice lunch at Cracker Barrel afterwards to celebrate her 3rd place medal on bars and also the completion of painting the house.
• I was happy to see The Truth About Drew had the #1 Best Seller banner again this week. I ran a Kindle Countdown Deal throughout the week and it did really well. It's always fun to see that little orange banner pop up.
• It's a short school/work week for Thanksgiving. Looking forward to family time and putting up the tree.
• My newsletter is going out later this week. If you haven't signed up yet, click HERE. There will be a little Black Friday info inside. Stay tuned!