I've got a love/hate relationship with book reviews. It's fun to get a nice 4 or 5-star review saying how much someone liked one of my books. Receiving positive words and compliments, finding people who love the book as much as I do and really get what I write is wonderful.
But it's not so much fun when someone says negative things about your stories, your characters, your heart and soul creation.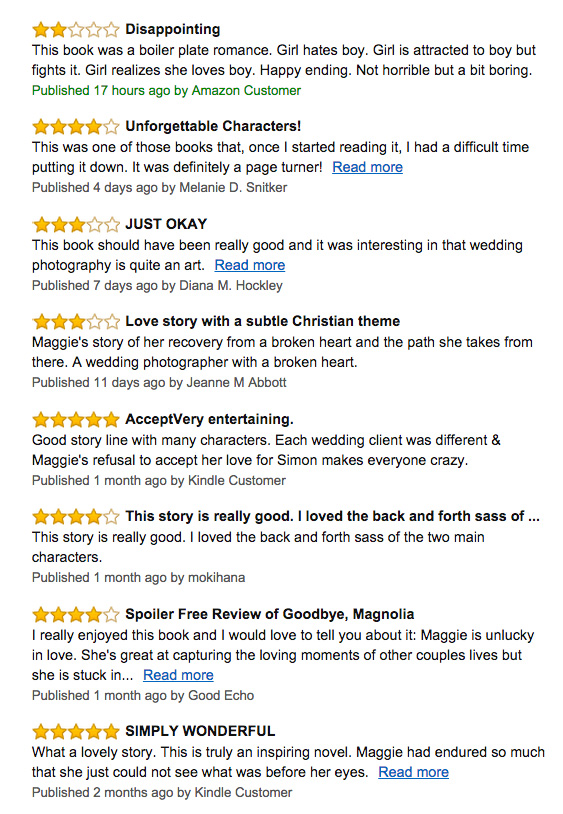 I try to brush off those negative reviews, because in my mind I know that not everyone will like what I write. But in my heart, I wish they did. I wish they loved my stories and characters as much as I do. That's not realistic, though.
I'm sure it's the same for every artist out there. Everyone who creates something from their imagination and dares to share it with the world. People will always criticize it and the reasons are too numerous to list. Maybe they didn't connect with that painting or they thought the new sculpture at the museum was ugly. Maybe that chef's signature dish at the hot new restaurant was disgusting to them or they thought the band playing at the coffee shop sounded terrible. Maybe they didn't relate to the characters in my book or the storyline wasn't their favorite or they thought it was stupid or ridiculous or boring or any number of other reasons it wasn't the book for them.
I get that. All of it. Because sometimes I don't get what an artist is trying to say in a painting or I'm not crazy about a certain band's music or a sculpture just looks like a jumble of pieces to me. And sometimes I've read books that bored me or were just OK or just didn't draw me in at all.
Everyone has their own opinions (as you can see from these reviews at right that I took from Goodbye, Magnolia's page on Amazon). They come to the table, to the art gallery, to their Kindles from many different places and experiences.
Even though I don't always love them, reviews are helpful. When I buy books, honestly, I don't really look at the reviews most of the time. If the synopsis sounds good or if it's a book by an author I have read before, I will probably read it. But there are people out there who rely heavily on what other people say about a book to decide if they will read it or not. So I say, if you liked a book, review it.
When it comes to posting reviews for the books I read, I usually give 5 stars if the book causes an emotional reaction in me – if I cry, usually,
but also if the characters get in my head and I can't stop thinking about them. Or for non-fiction, it's usually if I felt I learned something that will improve my life in some way. A book will get 4 stars from me if I really liked the story and it put a smile on my face. Most of the 4 star books are ones that I probably won't read again, but that I really enjoyed. If I can't give the book 4 or 5, I just don't review it. I guess as an author, I know that negative reviews can affect the ratings of books, so I don't want to be the cause of bringing a fellow author's book rating down. But that's just me. And I can't actually remember the last time I read a book that wasn't at least entertaining in some way.
If you have read any of my books and loved them (or < cringe > even if you didn't), please take a few minutes to leave a quick review over on Amazon.