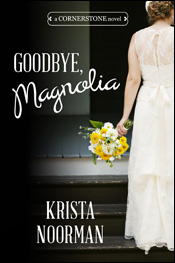 Back in my wedding photography days, dates were super important. Just about everything I did revolved around the date of a couple's wedding and those dates still stick in my head sometimes. I often booked weddings more than a year in advance and committed to that special date above all else. My schedule – my life, really – was all about those dates.
So when I was writing Goodbye, Magnolia, it was a no-brainer that the chapters would follow along with Maggie's wedding photography schedule. And I stuck with the dates for the non-wedding chapters as well to keep things consistent. What was going on in Maggie's life on this date? Oh, right … meetings. What happened to her on this date? Oh yeah, this was the day Simon showed up and blindsided her with his "brilliant" business proposal. And really, that's sort of how I looked at my life at that time, too. Based on my work schedule. Based on the dates. Meetings and engagement sessions and weddings and tons and tons of photo editing.
Going with the dates rather than Chapter 1, Chapter 2, etc. may not be the norm, but it felt like the right choice. For the other two Cornerstone books, I actually used the dates as chapters during the writing process, too, so I could keep the timeline straight in my mind. But Hello, Forever wasn't focused on Maggie's wedding photography and in Until Then, Michelle isn't a photographer, so it didn't really make sense for those books.
Goodbye, Magnolia got spruced up a little recently with new fonts in the chapter titles (shown above). I'm loving the new look.
Hope you enjoyed this little behind-the-scenes.
Happy reading!